Employee engagement is defined as the level of emotional and psychological connection with the company. This connection impacts the relationship with their jobs, their colleagues, and with the organization as a whole.
The concept of Employee Engagement has been a hot topic among Human Resources professionals, and is the subject of studies in various aspects, since it is directly related to the well-being and satisfaction of a company's employees, crucial for their best performance.
There are several reasons why you should invest in Employee Engagement. Recognising its value and importance, GFoundry gathered 3 of the most relevant reasons:
1. It is an investment in
Productivity
A Gallup study has shown that engagement is an extremely important factor for the productivity of an employee, and even of the teams themselves. This study showed productivity to be around 17% higher in teams that are more aligned and motivated in the organization.
In addition, other factors were observed in more aligned and motivated teams, such as higher profitability and customer satisfaction, as well as lower turnover and absenteeism. By investing in engagement, you will be impacting the entire business, and the motivation of all your employees.
Productivity can (and should) be measured by setting (and controlling) goals. This process is of crucial importance for managing talent in an organization, and is directly related to the Performance Evaluation of teams and their members. With GFoundry, it is possible to make this process more interactive, giving the employees the possibility of having access, in real time, to the state of completion of the objectives, and subsequently, to the results of their Performance Evaluation. 
2. It is an investment in reduction of Turnover
Employee turnover is a common phenomenon in companies, because people change their motivations, goals and even personal ambitions. However, a lower engagement with the organization is directly related to an increase in employee turnover, caused by a lack of alignment and a lower motivation.
In the process of an employee leaving, the vacancy will have to be filled. In addition to the resources needed for the recruitment of a new person, resources must be allocated to their training, so that they can perform their duties.
With GFoundry, through the results obtained from the Engagement Thermometer module, it is possible to evaluate 9 relevant metrics to measure the motivation and alignment of teams. For example, if a certain team in your organization has a low score on the Feedback metric, action may be needed to correct an existing problem, and thus positively impact employee motivation, consequently reducing turnover.
3. It is an investment in
Recruitment
Word-of-Mouth is very powerful, especially for companies that are committed to the well-being of their teams. Therefore, the employee Net Promoter Score* has been gaining relevance in the management of talent in organizations, with efforts being made to try to maximise the number of Promoters in the company, playing a determining role in attracting talent.
Additionally, employees who are aligned tend to participate more actively in the organization's recruitment processes, recommending profiles that they feel are suitable both for the desired roles and for the company as a whole.
Finally, the recruitment experience can also be impactful and gamified, having a direct positive impact on your organization's image. Through Missions, at GFoundry, you can create paths that candidates can take, from getting to know the organization, to quizzes to test their knowledge, or even form submissions. With this, it is possible to create Recruitment Journeys that will differentiate your organization as a talent recruiter, providing an innovative experience for your candidates.
Can GFoundry help me with my employees' engagement?
Of course it can! GFoundry, as a solution for Employee Engagement, is the ideal tool to work on the engagement of your employees. We transform the entire cycle of talent management of your employees in an impactful experience, through our gamification engine, improving their motivation and connection with the organization.
From attracting new talent, through Onboarding processes rich in content and experiences, promoting recognition and feedback throughout their journey, GFoundry covers all crucial stages in the Talent Management within your organization. Through the modules in the platform, it is possible to enrich the experience of your employees, making it inspiring, impactful and gamified!



On the other hand, through our Engagement Thermometer, you can not only get a snapshot of the current state of engagement of your employees, but also analyse its evolution over time! This possibility represents an essential decision-making tool, allowing you to see the impact (in real time) of all implemented actions.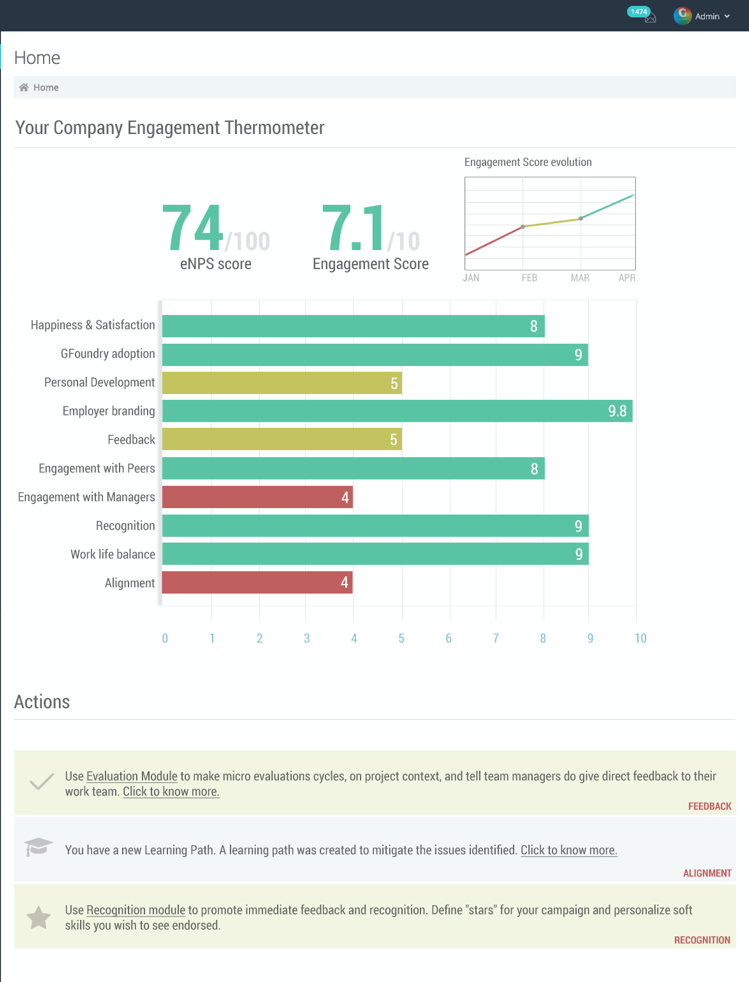 What is eNPS?
The Employee Net Promoter Score (inspired by the Net Promoter Score to measure the connection with customers) aims to measure the degree of alignment and connection of employees with the organization. The ideology behind it is simple: if you enjoy working for the company, then you will share that experience with other people.
The assessment is made through a scale from 0 to 10, in which the employee is asked whether they would recommend the company as a good place to work. Based on the answer, employees are classified into 3 personas:
Detractors (rating between 0 and 6): Employees who could negatively influence the image of the organization as a potential employer;

Passives (rating between 7 and 8): employees who do not influence the image of the organization and have no relevant connection with it;

Promoters (rating between 9 and 10): employees who may positively influence the image of the organization as a potential employer.
The eNPS is then obtained through the difference between the percentage of Promoters and the percentage of Detractors, and can vary between – 100 and + 100.