BUSINESS-FIRST APPROACH
One Platform, multiple advantages
A powerful tool powered by a Gamification Engine with a wide range of modules, which can be used in many ways across multiple devices, to help organizations solving different business challenges through the engagement of employees, partners and customers.
Multi-Company
One app, multiple companies. You can have a single entry point for several companies in your corporate group
Customizable
Your brand. Your image. Fully customizable apps adapted to your graphic environment.
Productivity
More efficiency guarantees more productivity. Implement dynamics through an intuitive backoffice
Multi-Module
Each of our modules help solve one or more challenges in your organisation.
Multi-Platform

Available on all platforms: Web, iOS and Android
SaaS
Optimised cost of ownership, full integration and continuous maintenance and support.
Multi-Lingual
Available in seven languages for Web, iOS and Android.
Integrations
Integrate with your existing platforms using API's and use our Gamification Engine.
A MODULAR APPROACH
Different modules for different purposes
Each module a goal, a purpose. Each module can be easily turned on and off. Together they provide different solutions and a holistic view of each company challenges.
ORGANISATIONAL CLIMATE
Engagement must be measured!
GFoundry´s Engagement Thermometer is our happiness monitor that helps your company understand how your people really feel about their job, their managers and company culture…and if they feel really… happy.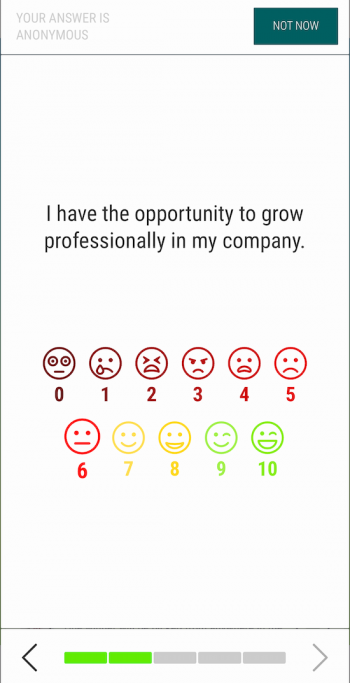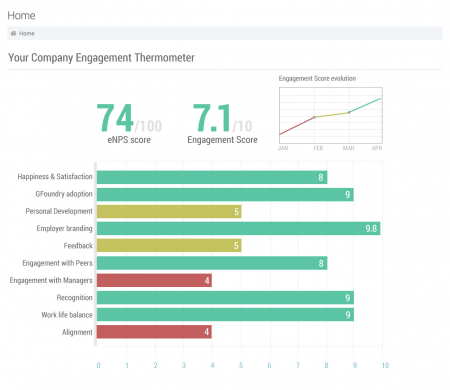 ORGANISATIONAL CLIMATE
Better Understand Your Employees!
GFoundry Engagement Thermometer allows you to follow key trends and patterns across your company through continuous employee feedback. Know exactly where your actions are impacting, and what areas and teams need your support.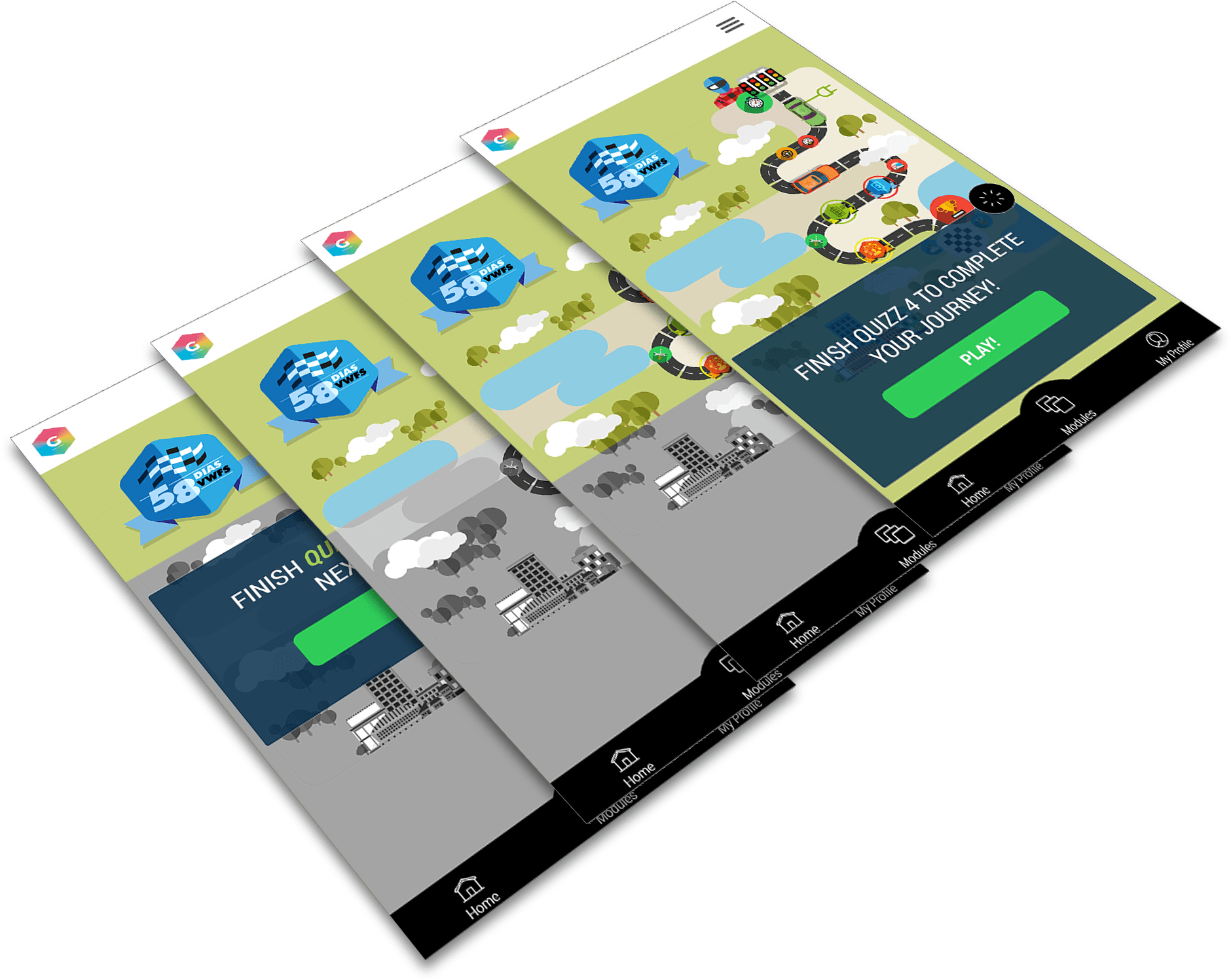 STRUCTURED PATHS TO GUIDE EMPLOYEES
Add a Player Journey Map!
With GFoundry you can create missions by adding a Player Journey! Use your own characters that illustrate the steps, needs, goals, thoughts, feelings, opinions and expectations of your players!
WHY WE'RE DIFFERENT
Gamification Engine
Who says work can't be fun?
At GFoundry we create impactful experiences centered on the employee, increasing their well-being and motivation.
With GFoundry Gamification Engine you can reward your community by setting milestones, setup badges and all the gamification design for your project.
Awards
Users can win different types of prizes using GFoundry Market Module
Badges
Reward players assigning badges. Milestones can be set for the achievements.
Leaderboards
Users are organized according to their performance and compared with the overall company ranking
Virtual Coins
The achievements can be rewarded. The coins can be used to buy things or unlock actions.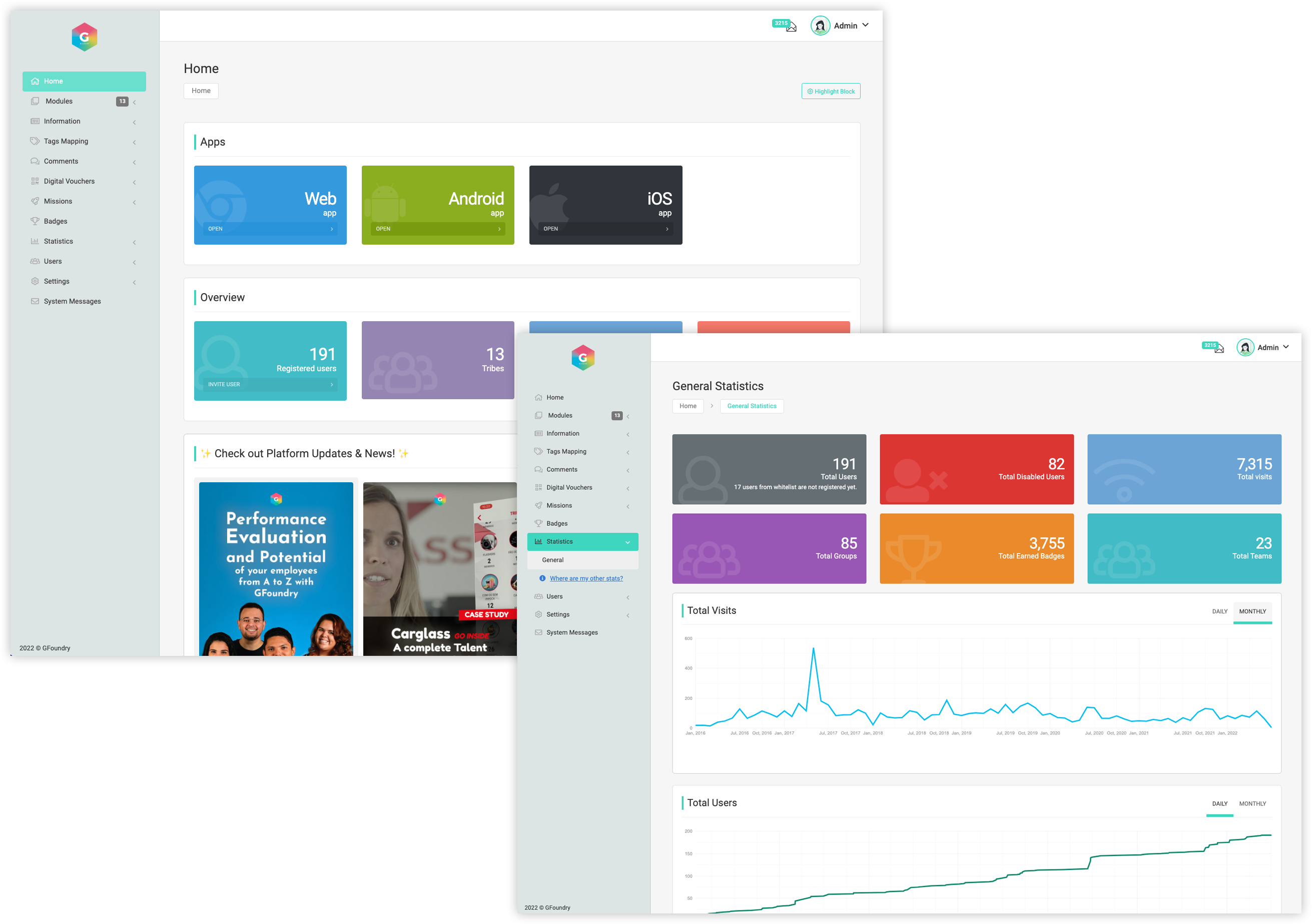 ANALYTICS AND REPORTING
Analytics: Track and report
What's the saying: if it doesn't get tracked it doesn't exist? That certainly goes for gamification programs.
Tracking is important for a number of reasons: It helps the participants know where they stand and how to improve; It helps the program leader understand if the program is actually driving the business goals you set out to.
THE IMPORTANCE OF INTERNAL COMMUNICATION
Socialise and Communicate!
Aggregate your community members by interest groups and promote agile communication mechanisms using push notifications, news, events and real-time chats.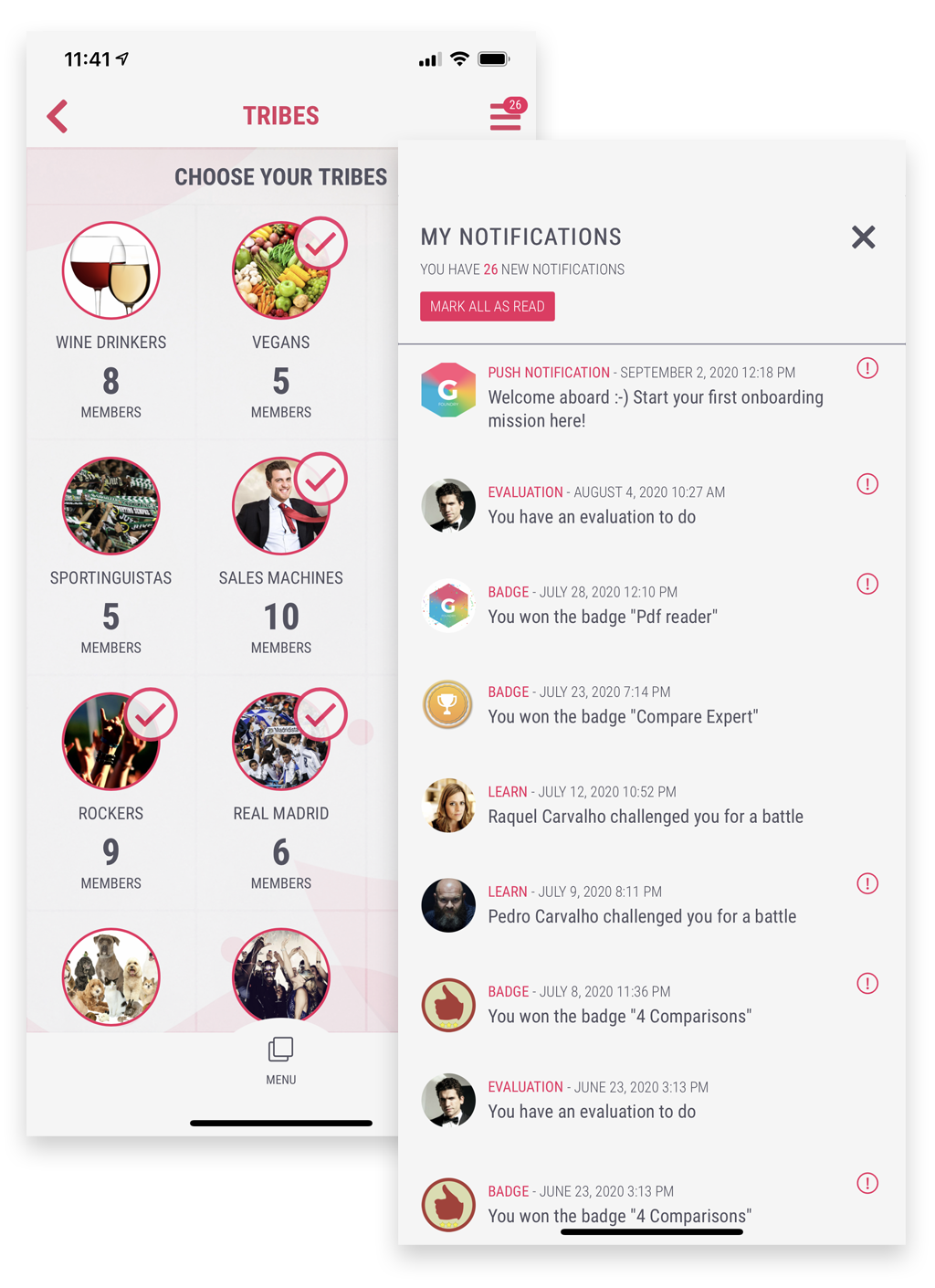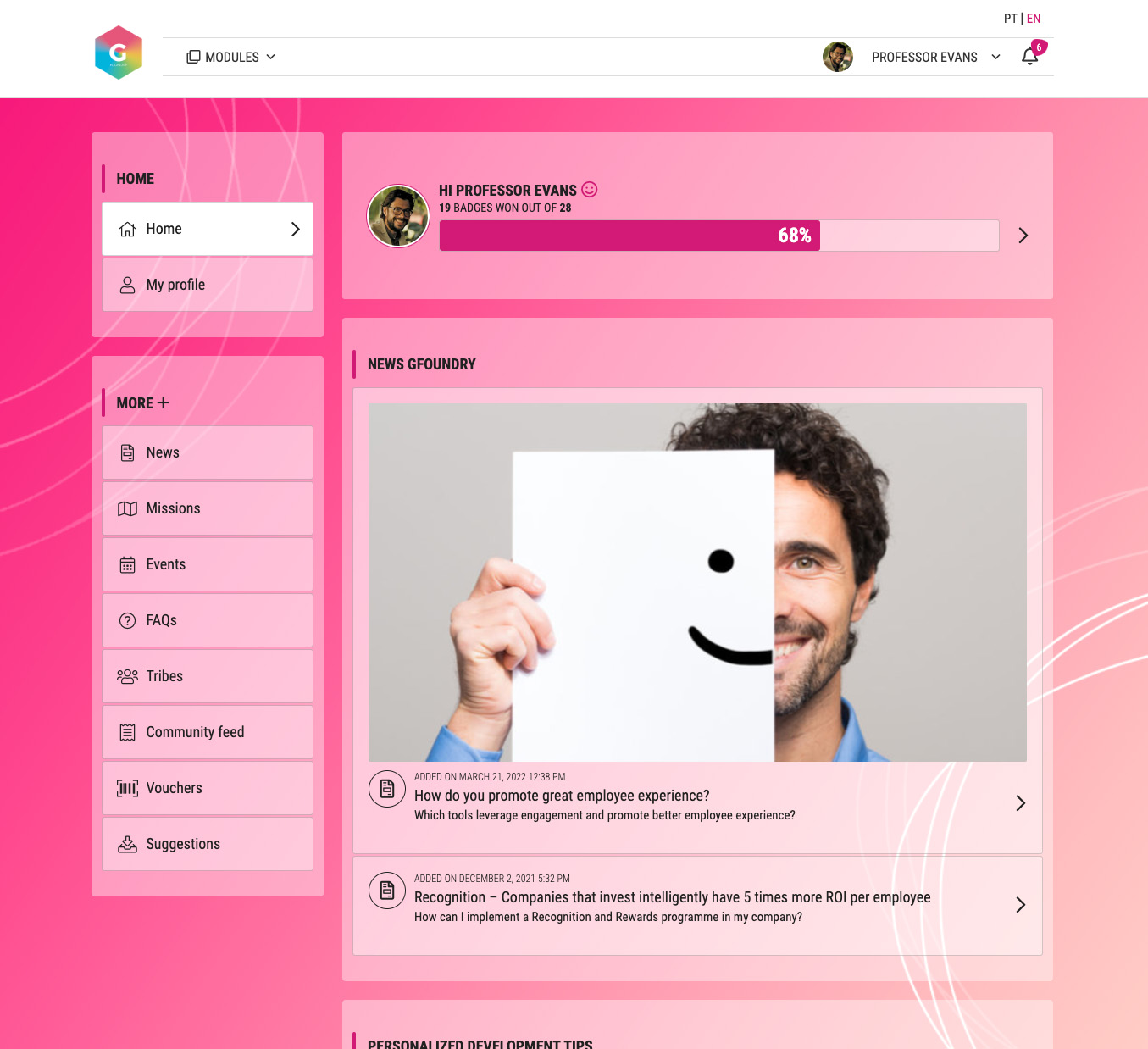 More than an Intranet!
The GFoundry platform can act as a sophisticated alternative to traditional "intranets", being able to function as a repository of various types of content, a space for communication and corporate messaging, among many other features!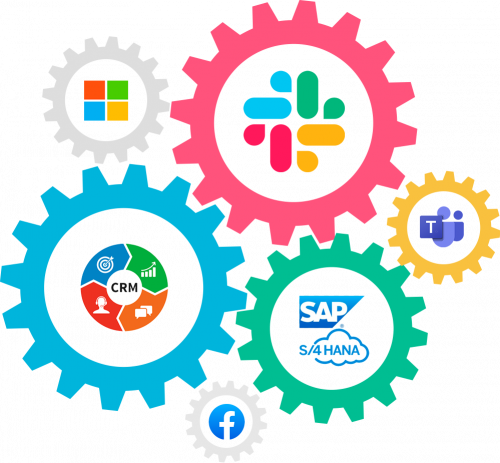 PRODUCT EXTENSIONS AND INTEGRATIONS
Integrations
GFoundry can integrate with your existing platforms such as ERP, business intelligence platforms, communication and chat apps, and more to import or export relevant data.
MULTI-PLATFORM SOLUTION
Available on the main Platforms
Web, iOS, Android