Goal Management based on the OKR methodology
An agile and collaborative Goals Management Tool with Gamification
AN OKR MODULE WITH GAMIFICATION
Bring your OKR methodology to life with GFoundry
With our OKR module, teams and individuals can easily set and track their objectives and key results.
They can also see how their work fits into the larger goals of the organization and understand how their contributions are making a difference.
With the regular check-ins progress reviews feature teams stay on track and make any necessary adjustments to their plans as they work towards their goals.
Make people feel more productive, motivated and happy with GFoundry's Gamification Engine.
THE FEATURES YOUR TEAM NEEDS
Main features of this module:
OKRs and Initiatives
Roadmap visualization
Due dates
Rewarding badges
Check-ins Reminders
Statistics with filters
KR's progress Dashboards
KR's Activity Stream
Settling objectives and personal challenges;
Settling objectives and professional challenges (smart goals);
Investment system with virtual coins where one can invest in objectives from others;
Objectives mass creation and management system;
Objectives status follow up on a simple and efficient way (start>progress>results);
Full integration with other modules for different purposes (Eg: Recognition, Feedback, Reward Market, Innovation, Performance Appraisal)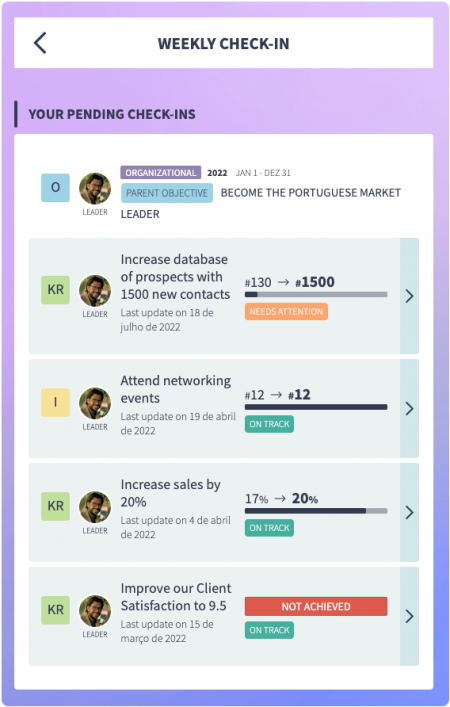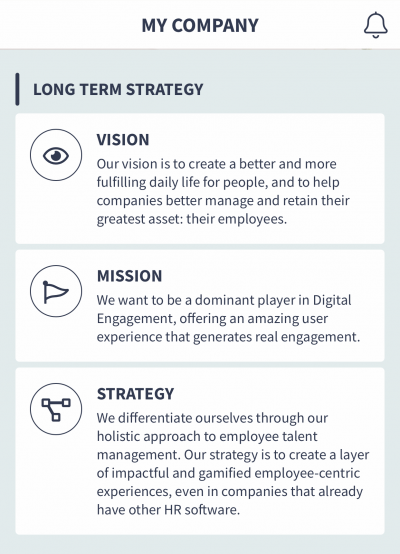 INVEST IN BETTER COMMUNICATION OF YOUR STRATEGY
A significant portion of your Company's employees are unaware of or do not understand your company's strategy *

An effective strategy creates a vision and direction of the entire organization.
GFoundry's OKR module improve goal transparency and accountability, and can make your teams became more aligned with your strategy, seeing how their work contributes to organizational progress and how they can add value.
WANT TO GO EVEN FURTHER?
What makes our OKR platform different?



This isn't just another OKR software. This a powerful an easy-to-use module to manage OKR, a tool to promote alignment and communicate your strategic Pillars, integrated with a full range suite of talent management solutions.
OKR's module use gamification techniques to boost engagement, and we are part of something bigger!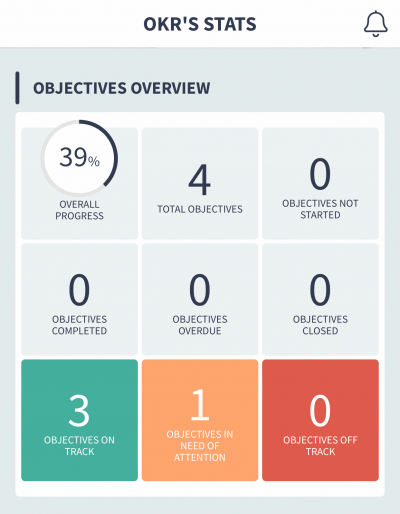 A MOBILE FIRST OKR MODULE
Boost your team's performance with a mobile first and easy-to-use platform.
We were born mobile. Keep moving, connected, and easily update your OKRs from anywhere with the GFoundry iOS & Android apps.
Here are some of the main advantages of using GFoundry mobile apps to manage OKRs:
With a mobile app, employees can access their OKRs from anywhere at any time, using their smartphones or tablets.
Enhanced collaboration: Mobile apps can also facilitate collaboration among team members by allowing them to share updates and communicate with each other in real-time.
Improved tracking and monitoring: Mobile apps can provide real-time tracking and monitoring of OKR progress, making it easier to identify areas of improvement and take corrective action if necessary.
USE GAMIFICATION TO BOOST YOUR'S EMPLOYEES ENGAGEMENT
OKRs with Gamification!
In the context of OKR (Objectives and Key Results) methodology, gamification can be used to create a more engaging and motivating experience for employees as they work towards their objectives and key results. Some potential benefits of gamification in the context of OKR include:
Increased engagement and motivation: Gamification can make the process of working towards objectives and key results more enjoyable and rewarding, which can help to increase employee engagement and motivation.
Better collaboration and teamwork: Gamification can encourage employees to work together and support each other as they strive to achieve their goals.
Improved performance: By making the process of working towards objectives and key results more engaging and rewarding, gamification can help to improve employee performance and productivity.
Greater transparency and accountability: Gamification can make it easier for employees to track their progress towards their goals and for managers to monitor the progress of their teams.