The Data Science Portuguese Association (DSPA) was created in 2016 by a group of professionals with the common feeling that the potential of this emerging profession was not being used due to the lack of information on the different applications of Data Science.
One of the main focuses of DSPA is the provision of certification in the area of Data Science. To this end, they use the GFoundry platform to structure all their training content for professionals in the area.
The Data Science Portuguese Association's Playbook had its name chosen considering its goal, since it is not only to provide content, but also to provide guidance to professionals in the area in a dynamic and appealing way.
Together with BridgeLK, all contents were transformed and adapted to the digital environment, focusing on converting heavy and extensive contents into knowledge capsules, making these contents easy to learn, follow, understand and execute.
"(…) Always having in mind that GFoundry would be the chosen tool to communicate with the market and develop this concept of a tribe, concept of a community."

Guilherme Ramos Pereira, Executive Director at DSPA
The platform's features regarding community involvement was one of the aspects most valued by the association when choosing a technological partner.
DSPA is the first Portuguese association in the area of Data Science, with the vision of establishing itself nationally and internationally as a platform for a concerted movement in the field of Data Science.
The Association has as its main objectives:
Promotion of Data Science at national and international level;
Sharing experiences and success stories;
Representation of the sector to the regulatory authorities;
Promotion of regulation, ethics and safety;
Promoting entrepreneurship and innovation in Portuguese companies;
Promotion and support of public utility projects in the field of Data Science;
Cooperation with public entities, companies and university institutions;
Certification and training of professionals in the area.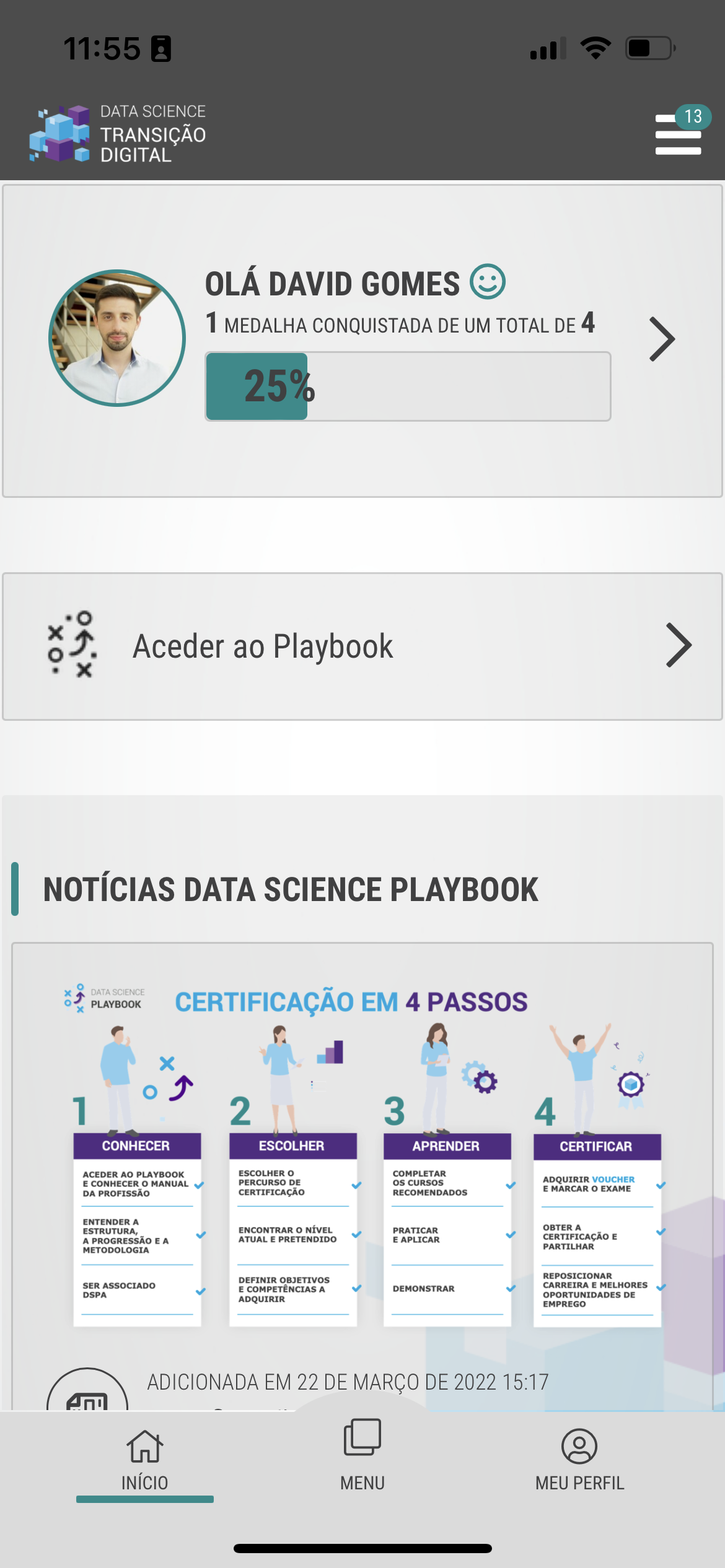 The social interaction between professionals in the area allows the creation of game dynamics and objectives that encourage people to return to the platform and learn more. In addition, through the gamification engine, people can be challenged to test their knowledge, compete with other professionals, having a significant impact on the retention levels of the knowledge provided.
Finally, making the most of GFoundry technology in the dissemination of training content, DSPA provides a method of certification in Data Science, allowing that when a person finishes a certain set of training, they can share the certificate automatically on LinkedIn.
For DSPA, the success of this Playbook will be to have thousands of professionals, technical and non-technical, using the platform.
Through the motto "Certification in 4 Steps: Know, Choose, Learn and Certify", DSPA allows all people interested in the field to access the platform (through LinkedIn), and choose the career they want to have in Data Science (Data Engineer, Data Analyst, Machine Learning Engineer and Data Scientist).