Create the 21st Century Workplace
Connect systems, tools and data to empower your workforce in an increasingly digital world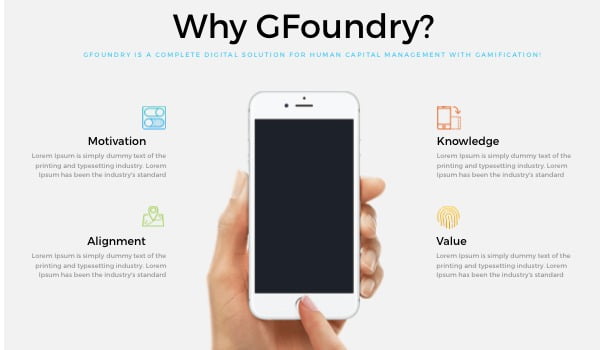 + Motivation
and employee engagement through GFoundry gamification methods and software engine

+ Alignment
with the corporate strategy and culture

+ Knowledge & Development
achieved through a greater engagement during the training processes and continuous communication

+ Value
for your employees and your bottom line!
1. Talent Management from A to Z
The complete engagement cycle!

Unleash the Power of Digital Engagement with Gamification! Create an efficient talent management system, from A to Z, with our Premium Plan, implementing all our modules in the various stages of your employees' talent cycle;
Encourage self-development;
Promote continuous feedback.
Boost Internal Communication
Cultivate your company culture and keep valuable employees, prevent them from leaving!
Give your community a voice, promote everyone's participation and create self-help dynamics;
Enrich experiences and capture relevant data to generate knowledge to support business and HR decisions;
Turn your attraction, recruitment and onboarding process into a gaming experience by rewarding completion of each step of the entire process. This will also increase the efficiency of your onboarding process;
Read more:
GFoundry helps you map your company's internal talent!
We use some features to help you know some metrics in your company that can provide you with valuable knowledge and help you anticipate some important decision making:
Development of training programmes in micro-learning format;
Goal management using OKR methodology;
Performance evaluation;
Management of internal recognition and feedback programmes;
Management and Evaluation of potential (9-box matrix);
Management of succession plans;
Internal mobility management;
Management of IDP's (individual development plans);
Individual archetypes (based on performance information);
Periodic touchpoint System for quantitative evaluation and feedback;
Career management, advanced dashboards with multiple filters.
2. Attraction, Recruitment and Assessment
Engage candidates from day one – Attract the right talent with unique digital candidate experiences
Some gamification techniques that can be implemented to add a fun element to the whole attraction and recruitment process.
A programme with this scope encourages the candidate to engage with your company even before a recruitment interview, providing highly relevant content to recruiters who can access information about the candidate's skills, critical and creative thinking and problem-solving abilities.
Create assessment journeys with shorter questionnaires and faster response times, keeping candidates more engaged and motivated;
Create agile processes for gathering documentation, such as CV's, qualifications certificates, motivation letters, among others;
Give candidates immediate feedback and encourage communication during the assessment period;
During the attraction phase, promote your company and what differentiates it from the competition, keeping the interest of potential candidates high;
Give those responsible for the attraction and recruitment processes powerful data and tools to help them make better decisions;
Create recruitment referral programs, where the community can refer someone for a certain position and earn compensation if that person is hired.
Read more:
How can GFoundry help me impact talent attraction?
The GFoundry solution impacts the experience of employees in all phases of the Talent Management Cycle, from their attraction and recruitment, through their management and development, to their effective departure from the organisation.
Through the dynamics available, you can create Recruitment Days (or Missions), allowing candidates to enter the environment and atmosphere of your company in a more interactive, dynamic and digital way, providing a completely differentiating recruitment experience.
The candidates, having access to an app in which they will be in direct contact with your organisation, will be able to know, in real time, at what stage of the recruitment process they are, at the same time as they can access other content made available by you. This way, candidates will feel more integrated into the organisation, creating a stronger connection right from the start of their Journey.
Hiring referral programs
You can also create recruitment referral programs, where the community can refer someone for a certain position and earn a reward if that person is actually hired.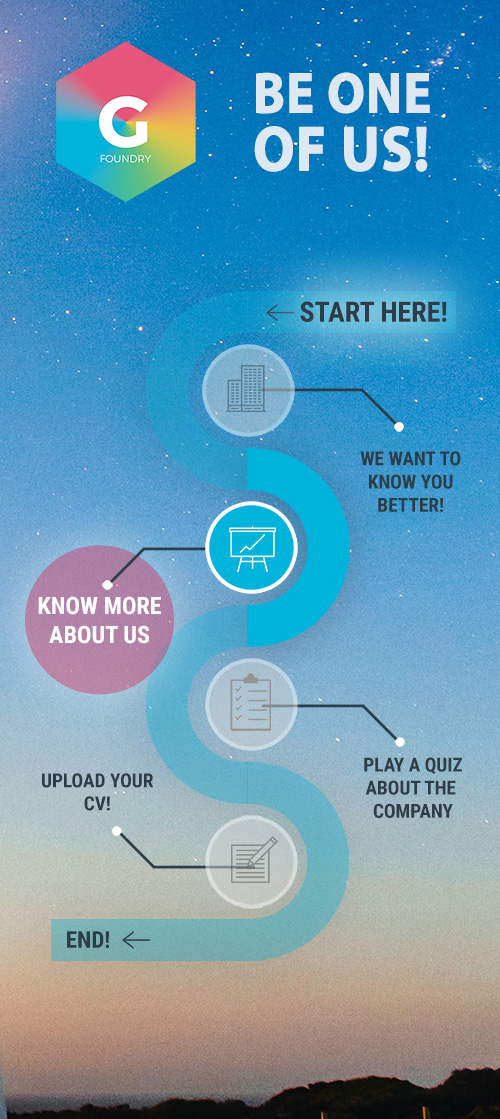 Commonly used modules
3. Onboarding
Use gamification techniques and digital journeys in your onboarding processes and see your new employees' motivation, retention and engagement increase.
GFoundry has developed an exciting digital suite with several modules for your onboarding and engagement needs.
With GFoundry you will be able to create as many onboarding journeys you want and use gamification techniques on your day to day processes and see immediate results on people's motivation, retention enhancement and engagement of your newcomers.
Main features overview:
Statistics & reports
Engagement indicators
Unlimited contents and activities
Content and task segmentation
Integration with learning systems
Unlimited journeys per employee or group of employees
Add any GFoundry module to an onboarding mission
Notifications and reminders per employee or group of employees
Onboarding mission segmentation by employee, team or department
Read more: How to Build Onboarding Missions with GFoundry Platform
Why?
According to a study by Aberdeen Group, 86% of new employees choose to stay or leave the company within the first 6 months, and there is a 69% likelihood of staying for more than 3 years if the organisation provides them with a good training and onboarding experience.
Organisations with gamified onboarding see on average a 48% increase in engagement and motivation and a 36% improvement in turnover rate.
Gamification can also help mitigate some of the biggest challenges and mistakes of onboarding, which make up the EVP – Employee Value Proposition.
4. Learning and Development
A complete learning experience! All the content at your fingertips to minimise the forgetting curve and continuous skills development
Encourage your employees through challenges and goals;
Motivate learners to follow a path and achieve goals;
Do a competency mapping of your entire organization;
Drive innovation by developing experiences that promote innovative thinking;
Create the necessary skills through

gamification

, through points, badges and rewards after achieving important goals and milestones;
Foster the acquisition of knowledge through repetition, with short, visually rich content (microlearning);
Make unattractive content fun
Encourage your employees to actively participate in training on topics such as safety, quality certifications and compliance by creating good experiences, creating a purpose with interesting and motivating narratives, using the gamification tools of the GFoundry platform.
Increase interest in actions by integrating goals and point systems into daily tasks;
Inspire employees to integrate self-development of skills into their daily work;
Ensure employees keep content such as GDPR, health, hygiene and safety at work at the top of their learning priorities.
Read more:
Why?
Learning and self-development processes are important to generate business results, increase security or promote individual and collective improvement initiatives. However, people forget about 90% of what they learn and simply completing a training course does not guarantee a change in behaviour. This is where GFoundry's microlearning methodology comes in.
About Microlearning
Microlearning is a learning approach whose strategy is to deliver relevant content in small, highly focused blocks on the topic to be addressed.
It is the ideal way to find quick answers to specific problems.
Key features:
Duration: As the name implies, microlearning is fast. The basic idea is that a training module can be completed in about five minutes. However, there are no hard and fast rules – it is all a matter of need and context.
Focus: each formative module provides a focused answer to a single problem or question.
Variety: microlearning content types include quizzes, video, audio podcasts and other documents.
Optimised for mobile.
5. Performance and Career Management
Continuous or one-off assessment to help you achieve goals and objectives throughout the year
Enter your company's career paths, including all professional categories and the weight of each competence you need to evaluate.
The GFoundry platform allows you to create various assessment models to evaluate your employees' performance:
Top-Down evaluation
Evaluation by Objectives (MBO)
Self-evaluation
Potential management
360 degree feedback and evaluation
Key features:
Succession management;
Mobility management;
Feedback process management
Management of career expectations
Evaluation of objectives and competencies
Delegation of assessment responsibilities
Evaluation and Management of potential (9-box matrix);
Logbook system with history, per employee
Management of IDPs (individual development plans);
Career management, advanced dashboards with multiple filters
Individual archetypes (based on performance information);
System of periodic touchpoints for quantitative evaluation and feedback;
Check this great case study with Carglass, which has implemented a complete evaluation & talent management solution which is called Go Inside, currently spread throughout the entire internal structure.
Why?
Knowing some metrics in your company can give you valuable knowledge and help you anticipate some important decision making.
With GFoundry, the answers to some important questions are just a click away:
Which employees are highly likely to leave the company?
Who are the employees with the highest potential?
Who might succeed in a certain function?
Who are the future leaders of the company?
Which competences does the company need to develop internally?
6. Innovation Management and Feedback
Promote Feedback, Participation and Idea sharing
Give your employees a voice: promote the continuous sharing of ideas and feedback
Create an innovation ecosystem
Turn creative ideas into business opportunities
The power of Crowdsourcing
Connect experts, collect ideas from multiple sources and promote knowledge sharing within your company
How can GFoundry help me implement a strong Feedback culture?
GFoundry is a solution that holistically impacts the entire Talent Management cycle. With the Feedback Module, it is possible not only to manage peer feedback processes, informally and in various scopes, but also to manage feedback processes between employees and managers, in both directions.
In order to create a true feedback culture, it is possible to have the module constantly available, so that any employee can share or ask for feedback whenever they wish.
Read more here:
7. Goal Management based on the OKR methodology
An agile and collaborative Goals Management Tool
People perform better when they are committed to challenging goals – it's human nature. But do employees know what the company and its managers expect from them?
Many employees do not know what is expected from their work.
When managers help employees to define their work priorities and their goals, they facilitate the path to achieving the objectives, allowing employees to take initiatives and work autonomously.
It is out of this need, by refocusing organisations on their strategic priorities, that the OKR methodology – Objectives and Key Results – aligns all stakeholders by breaking them down into clear and unambiguous objectives for teams and their members, monitored by metrics, these referred to as "key results".
The OKR methodology based on the GFoundry platform
GFoundry, using the Goals module, is the ideal tool to support the implementation of OKRs as it responds to their key attributes as follows:
✔ Simplicity: because it is a mobile first solution, its interface mandates simple and straightforward descriptions;
✔ Transparency: it allows public goals to be set and their progress to be shared with the organisation in real time;
✔ Agile and Dynamic: super versatile in updating and sharing results, they can be self-declared, manually entered by the manager or automatically from a data source;
✔ Alignment: awareness by providing libraries with content in various formats and the news feed with key information;
✔ Feedback and Recognition: regular monitoring and support with access to reward plans through gamification techniques.
Read more: OKRs – Objective Key Results: What they are, what's their purpose and how they can be useful when applied in an agile way.
Commonly used modules
8. Competitions using your own data
Gamify your business. Start your game!
With the Machine Gaming module and our API, you can gamify any data available in any of your CRM, RP business platforms and create competitions with your data and metrics.
If you wish, and without the need for any technical implementation, you can use simple .XLS files and enter the data you want autonomously.
Creating a healthy competitive environment that includes daily feedback and recognition is a powerful catalyst for employee wellbeing in itself.
The example of DPD Portugal is a great case study on how gamification allowed the company to skyrocket their KPIs, using competitions dynamics involving their drivers.
Read more:
Encourage, empower and increase the performance of your sales teams!
Use the data in your commercial management software and challenge your sales teams to enter and keep their data updated in your activity tracking system and automatically reward them for recording some of their activities:
Closing deals, qualifying opportunities, reaching a sales target
Assign challenges based on group, role, geography
Create competitions and recognize the best
Gain insight into what motivates your sales team with detailed reports and analytics
Learn more about syncing your data with the GFoundry platform using the Machine Gaming module.
9. Pulse Surveys & People Engagement
The level of engagement must be measured!
Know your employees better!
GFoundry's Engagement Thermometer Module allows you to learn about key trends, sentiments and behaviour patterns across the company through continuous feedback from the entire community.
Know exactly where your actions are having an effect and which areas and teams need your support.
With this module you can:
Get real-time insight regarding your company's Organizational Climate and Engagement
Have real-time access to 9 metrics and their evolution over time
Have access to a set of recommendations for improvement, according to the weaknesses found
Have an integrated vision of which employees are highly likely to leave the company
Have access to your company's eNPS
Customised Assessments
Read more: