Lack of employee motivation and alignment can cost companies millions
Gallup reveals that demotivated employees have 37% more absenteeism, 18% less productivity and 15% less profitability. When this is translated into euros, we see the cost of 34% of the annual salary of a demotivated employee, or three thousand euros for every 8,900 euros they earn. The figures refer to the North American reality and reveal how much a demotivated employee really costs. In an article for Forbes, Karlyn Borysenko, an organizational psychologist, explains. The average annual North American salary is 42.000 euros. Now, 34% of 42,000 euros is 14,280. That's the cost of a single demotivated employee, almost 15,000 euros a year. Applying the formula to an entire organization, if we consider an average business that employs 250 people, and if we use Achievers' data, we come to the conclusion that 198 employees are demotivated. Taking the average salary as a reference, this demotivation costs the company more than three million euros per year. Scary?! We shouldn't be complacent either. A first step to solve the problem is to recognise it and take measures. And then involve the team. But, still according to Karlyn Borysenko, part of the problem is that many managers and leaders leave a lot to be desired when it comes to asking for, listening to and responding to employee feedback. Just as important as asking for feedback, is showing real change. Acting on the results and not hiding them. All this takes time and resources, but the investment will always be less than 34% of the annual salary of demotivated employees. On the other hand, according to Gallup, more than 70% of the transformation efforts fail due to lack of engagement and resistance to cultural change, where 24% of the employees are actively disengaged, 63% are not engaged and only 13% are actively engaged. Changing this reality is the challenge for companies.
One solution, four aspects
Bearing in mind these numbers, and the impact they have on business performance, Bearing Point and GFoundry are already working together in the development of some projects that will change the bases of some organisations and make them more efficient in terms of managing the engagement and talent of their employees. João Carvalho, co-founder and CEO of GFoundry explains that this platform was "created to support companies, helping to initiate or support digital transformation processes, through the "fun" of Gamification, the "influence" of Social, the "availability" of Mobile, and the "insights" of Analytics, to create a simple, intuitive, powerful and rewarding experience for employees and customers. GFoundry's fully customisable modules cover various areas, from training to recognition, from performance evaluation to the promotion of innovation. And contributing not only to the attraction but, above all, to the retention of talent. This platform intends to "revolutionize the way companies motivate and promote greater engagement in their employees", guarantees Manuel Lopes da Costa, managing partner of Bearing Point, who points out that, "for the new generations that are entering the labour market, games are part of their daily lives, they grew up with Call of Duty, Fortnite or SimCity, so you can't motivate these people with arguments from the 70s, even because the available technology is different. Before, people found technology in companies far superior to what they had at home. Now they don't. And so they enter the labour market and they don't expect onboarding to be done by handing them books to read about the company's mission, values and strategic objectives," he says. "The generation coming out of college is highly dynamic, hyper-connected, they like challenges and scoring. This should be used in companies to create engagement, sense of belonging and leverage knowledge about the organisation. This platform uses a language that these talents are used to and promotes healthy competition." Being a solution in which all the modules can be customized, added or removed, according to the format that best applies to the company's reality, this is where Bearing Point comes in, whose role is to get to know the company, the challenges it faces, the KPIs (key performance indicators) it wants to improve and what goals it wants to achieve. Based on that, the project is designed. Aligned to this strategic consultancy, the contents are defined and a communication plan is assured, as well as monitoring, after implementation. "It's an integrated solution", says João Carvalho.
How does it work?
Basically, what the GFoundry platform (gfoundry.com) proposes is to transform and empower organisations, using gamification as a strategic management tool. The game, "through motivation to compete, to improve and overcome barriers, and to be instantly rewarded, boosts engagement", they guarantee. Automated actions, with personalised content and contexts, missions and challenges to execute, progression information, regular recognition, continuous and instantaneous feedback and rewards, thus aim to motivate people to achieve objectives, continuously train, and solve problems. In addition to issues more related to the area of People Management, such as onboarding, training and development, performance evaluation or recognition, this platform also boosts the performance of commercial teams, for example, by helping them to know the products and services better and increasing the level of motivation and engagement, by creating teams that can compete with each other, creating challenges, individual or team challenges. The employees will receive points and the company will receive feedback on the performance of the teams, with detailed reports, which will allow any necessary corrective actions to be identified. Let us see a concrete example of the benefits of the GFoundry platform, regarding operational challenges in training and competence development:
Typical training processes are not very interactive and are long: gamification will foster knowledge via micro-learning, ensuring that the organisation's employees acquire knowledge through a logic of repetition, with interactive training content using images, sounds, etc;
Low employee receptivity to new training: the possibility to create teams and to belong to tribes, which can compete among themselves, will increase the level of employee engagement;

Low incentive to complete training:

being able to challenge colleagues to quiz battles on training topics will increase motivation; Difficult to guarantee behavioural change: through the platform, by completing training, you will earn points that allow you to buy rewards (there is a virtual currency that you can exchange for mobile phones, for extra holidays, for a weekend in the Algarve, or even contribute to social causes, for example), earn recognition badges and be a top player in individual, team or tribe rankings;

Each challenge in an organisation is seen as a "journey":

this journey will be a path designed to take the employee through a series of stages that will take him from point A to point B, passing through others that are deemed necessary. In a stage, you can use any of the modules of the GFoundry suite, and have several objectives that must be successfully completed in order for the employee to move on to the next stage.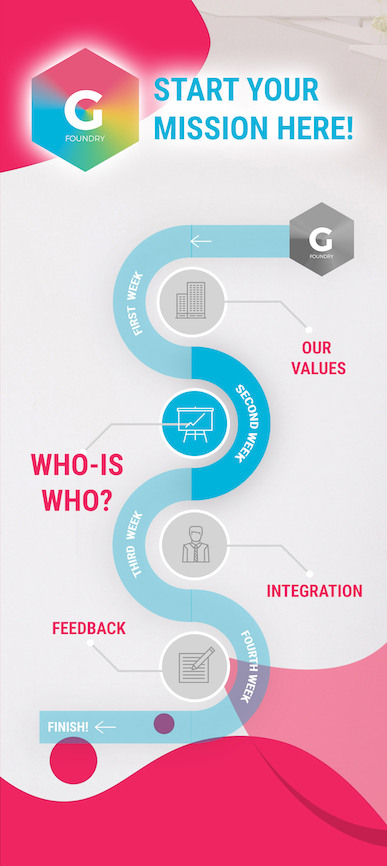 In the first phase of the project (estimated time of two weeks), the design and determination of the journey that is intended to be gamified, and its objectives to be achieved are made. The indicators that will be used to measure the success of the proposed challenge will also be identified. In other words, the best strategy will be defined by assessing the needs and identifying the behaviours to be changed; goals and performance metrics will be defined; the solution will be designed, timings, challenges and dynamics will be defined; and the narrative and graphic design will be created. In the second phase (estimated time of four weeks), the previously identified journey is customised, including its launch in production and monitoring of the results achieved. In the third phase (from three months to 12 months, depending on the type of challenge), the phased launch and monitoring of results begins, in a constant way, in which the agreed KPIs are measured and adjustments are made whenever necessary so that the interest curve of the participants does not decrease and does not make people abandon the initiative.
Taking the pulse of the organisation
Another great advantage of the GFoundry platform in terms of People Management is that it allows you to "take the pulse" of the organisation, through regular questions, focusing on various themes and KPIs, and thus have a kind of "employee engagement thermometer", understand the evolution, find weaknesses and act accordingly. "We don't believe in surveys in which, once a year, the Human Resources director is pestering everyone to answer", says the person in charge. "Our platform allows, every week, or every month, through short and simple questions, to understand the motivation of employees, what are the most pressing issues in the organisation, and make a history, understanding the evolution and trends, and, also benchmark, not only with your industry, but more generally. The answers are anonymous, to ensure the "ease of answering", he emphasises.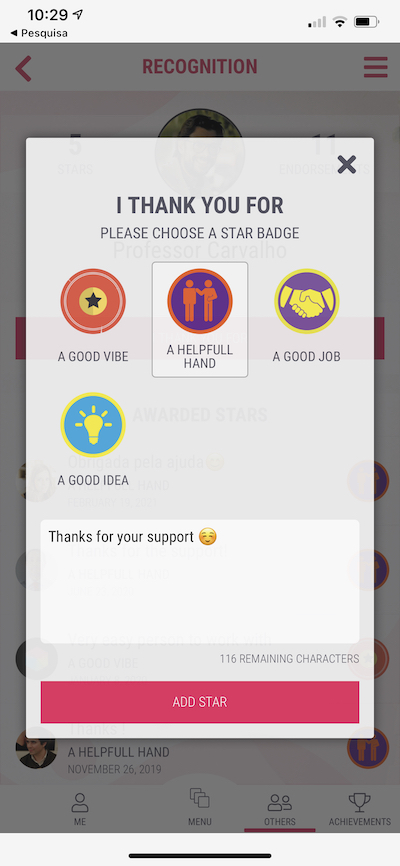 João Carvalho also highlights the importance of the direct recognition of employees, "which, through the platform, is very easy. I can give medals, qualifications or make comments", he explains. "And this can have a material translation. For example, whoever accumulates x points is entitled to a trip. Whoever acknowledges can also be rewarded. We must not forget currently one "lives" on Facebook and Instagram, making likes to each other; companies should take advantage of that. It may seem innocuous, but if a colleague is helping me on a job until two in the morning and then I can publicly acknowledge him for it, and he also gets rewarded, it can mean a lot." GFoundry also encourages communication. "Companies can no longer limit themselves to suggestion boxes," warns GFoundry's CEO. "It ends up covering, almost transversely, the most relevant themes of People Management, using, as has already been said, a current language, with which people identify. Competition is almost inherent to the human condition, we all like to be recognised and rewarded." The challenges that the companies that have sought this solution are diverse. João Carvalho shares, "A client wanted to know, of all the items it produced, which was its most innovative product. They used the internal "voice" of thousands of employees and used the "comparisons" module to choose their "star" product. Another company, Portuguese but with most of its workforce made up of young foreigners, from the fields of applied mathematics and engineering, had
onboarding
as a challenge because, with so many nationalities, they didn't want the company culture to be lost." "The most important thing – reiterates the person in charge – is to understand what management problem the company wants to see solved, be it Human Resources or other. In the end, the objective is that there is a greater engagement of employees, to generate loyalty behaviour with the company and respect and mutual help with colleagues. And our employees have received this solution very well". João Carvalho concludes, "Companies have been trying to solve these problems we've talked about here, using manuals or loose solutions, and what this platform offers is an integrated solution, which responds to various challenges of modern organisations, many of them motivated by digital transformation, which has much more to do with people than with technology; that is, putting technology at the service of people."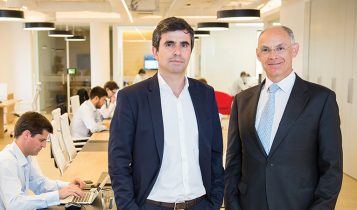 João Carvalho, Co-Founder and CEO of GFoundry (left) and Manuel Lopes da Costa, Managing Partner of Bearing Point.
GFoundry Solution
Gamification: The process of using game mentality and mechanics to solve problems and engage users.
Social: Giving people more communication autonomy and an environment that allows them to feel part of a larger community, on a consistent basis. It allows creating an A and B profile – showing a more professional and a more personal context -; tribes, associating employees according to similar interests -, and doing battles, addressing the "need" for competition, peer comparison and rewards.
Mobile: Power to capture attention, when and where it is most convenient, for employers and employees. The access to contents and to all dynamics is enhanced through smartphones and native apps are, by themselves, an important tool for internal communication in companies.
Analytics: Provide knowledge of the numbers and data behind the dynamics implemented to assist future decision-making.
Keep on reading
Ready to get started?
Take the next step and learn more about how GFoundry can help you.