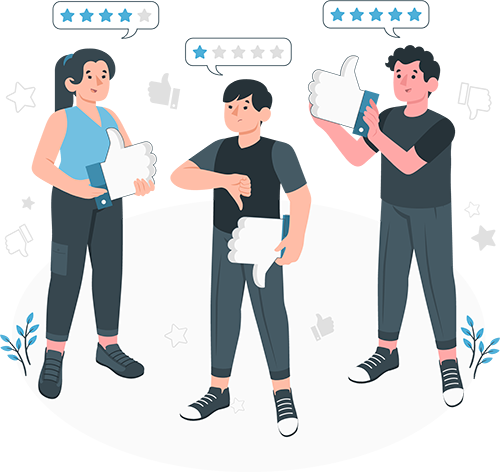 What is Feedback?
Feedback is an invaluable communication tool that helps shape corporate culture, promotes personal and professional development, and drives organizational growth. It is both an art and a science. Art because it requires empathy, sensitivity, and communication skills to be delivered effectively. Science because it is based on objective observations and concrete facts.
Employee Feedback Benefits are huge. Examples of feedback, such as positive feedback, play a crucial role in fostering a supportive and motivating work environment. Positive feedback not only boosts employee morale but also encourages the continuation of good practices and behaviors. Moreover, with the use of feedback software, organizations can streamline the process of collecting, analyzing, and responding to feedback in a timely manner. This feedback management is integral to organizational growth as it aids in identifying areas of strength, pinpointing opportunities for improvement, and strategizing effectively for future success.
The importance of employee feedback

Employee feedback is an incredibly valuable resource. It provides insight into the organization's internal processes, helps identify areas for improvement and growth opportunities, and helps keep the company aligned with the expectations and needs of its employees. This feedback can influence the company's strategic direction, shape its culture, and promote a more inclusive and engaging work environment.
What are the different types of Feedback that exist?
Feedback is not just one thing. It can take many forms and functions, each with its own benefits and challenges. Some types of feedback are designed to reinforce positive behaviors and achievements, while others are used to highlight areas for improvement and encourage change.
Constructive feedback: positive and negative
Positive Feedback is used to reinforce good behaviors and recognize achievements. It motivates, encourages, and creates a positive work environment.
Negative feedback, when provided effectively and constructively, is a powerful tool for promoting growth and improvement. It highlights areas of concern and provides guidance on how to improve.
Some examples:
Example of Positive Feedback
"Paul, I noticed that you have been contributing a lot with creative ideas during our brainstorming meetings. Your innovative approach has really stimulated the team to think outside the box. Keep it up, your creativity is very valuable to us."
"Ana, your presentation to the client was exceptional. It was evident that Ana did extensive research and presented the information clearly and convincingly. Your hard work shone and I think Ana persuaded the client with your argument. Great job!"
Negative Feedback
"Peter, I noticed that you have been arriving late for meetings in recent days. I know that we can all be late from time to time, but when it happens consistently, it can disrupt the flow of the meeting and delay team progress. Shall we try to improve this?"
"Lucy, during the project review, I noticed that there were some errors in the calculations you made. This could have impacted project delivery. I know you are capable of detailed and accurate work, let's try to ensure that these errors are minimized in the future, ok?"
Remember, even when feedback is negative, it is important to give specific examples, be respectful, and offer improvement solutions or suggestions. The goal of feedback is to help the other person grow and improve, not to make them feel bad.
Unconstructive feedback: insignificant and offensive
Insignificant or offensive feedback can be harmful and counterproductive. They can sow confusion, damage morale, and create a toxic work environment. Avoiding these types of feedback and focusing on building constructive feedback is essential for the health and success of an organization.
Some Examples:
Insignificant Feedback
"John, your work has been…good." This feedback is vague and offers no guidance on what Carlos is doing well or what he could improve. It provides no real value to John in terms of his development or understanding of his performance.
"Mary, keep it up." Although this seems positive, this feedback is not helpful if Mary doesn't know what specifically she should continue to do. She doesn't receive information about which specific actions are contributing to her good performance.
Offensive Feedback
"Peter, your work is a disaster. You never do anything right." This feedback is highly negative, personal, and offers no constructive suggestion to improve. It's likely to leave Peter feeling attacked and demoralized, rather than motivated to improve.
"Olivia, I don't know how you got this job. You are completely incompetent." This feedback is offensive and disrespectful. Also, it attacks Olivia's competence in a way that is not constructive or helpful.
Remember that the goal of feedback is to support growth and development and not to belittle or offend a person. Offensive or insignificant feedback can damage an individual's morale and self-esteem, as well as the team dynamics and work environment as a whole.
How to Provide and Receive Feedback
Providing and receiving feedback are crucial skills that require practice and development. They involve not just delivering feedback, but also the ability to accept and act based on the received feedback. The Context, Behavior, Impact, Expectation feedback model is an excellent tool for providing effective feedback.
What are the best practices for providing and receiving feedback
Giving and receiving feedback is a delicate process that requires empathy, clarity, and timeliness. Feedback should be given as soon as possible to be most effective. And, when receiving feedback, it is important to actively listen, keep an open mind, and avoid defensive reactions.
About who receives the feedback
Those who receive feedback are the true protagonists of this story. They are the ones with the ability to change, grow and improve. Feedback is the roadmap to this transformation.
What not to do
When providing feedback, it is crucial to avoid ambiguities, be specific, and, above all, be honest. Feedback should never be used as a weapon, but as a tool for personal and professional growth and development.
Example of ambiguous feedback:
"John, your work has been reasonably good, keep doing what you are doing."
This feedback is ambiguous and doesn't give John any clear direction on what he is doing well or what he might need to improve. "Reasonably good" is not a clear evaluation – John may wonder if this means his work is really good, just average, or something in between. Also, saying "keep doing what you are doing" without specifying which actions or behaviors are appreciated is not helpful.
A more effective feedback could be:
"John, you have been doing a great job managing communication with customers. You respond to emails quickly and efficiently, and customers have commented positively on your availability and usefulness. Keep improving these communication skills. However, note that there were some errors in customer status updates last week. Please make an extra effort to ensure the accuracy of these updates."
This feedback is specific, direct, and provides clear guidance on what John is doing well and what he can improve.
How to collect and analyze Feedback?
How to collect feedback from employees?
Collecting feedback from employees is an ongoing process that should be structured to ensure that the data are relevant and useful. This can be done through surveys, individual meetings, or online feedback tools:
Surveys can be structured with specific questions to get precise details or open-ended to allow a broader discussion.
Individual meetings allow for a deeper and more personalized dialogue.
Digital and online feedback tools provide anonymity, allowing employees to express their opinions without fear of retaliation.
How to analyze employee feedback?
Analyzing employee feedback requires a systemic approach to identify patterns, trends, and insights. Do not get attached to a single comment, but look at the bigger picture. Use statistical techniques to quantify data whenever possible and resort to text analysis techniques to interpret open feedback. Considering the employee's perspective and the context in which the feedback is given is also crucial.
Real examples of different types of feedback for managers and employees
Examples of feedback can be as varied as people and situations. A feedback can be: "I like how you organize your tasks, it makes our team more efficient". This is an example of positive feedback that reinforces a desirable behavior. Another example, "You have a great sense of initiative, but sometimes it is important to coordinate with the team before making big decisions" combines positive and negative feedback in a balanced and constructive way.
How to use Feedback to boost Organizational Growth?
How can feedback aid in company growth?
Feedback is not only beneficial for the personal and professional development of employees, but it is also a valuable tool for company growth.
Feedback from employees can illuminate strengths that should be capitalized upon, weaknesses that need attention, opportunities for innovation and expansion, and threats that should be managed. Utilizing feedback in this manner requires an open and proactive mindset from management.
How to use employee feedback to increase engagement and decrease turnover
Employee feedback is a gold mine of information that can be used to improve employee satisfaction and retention. By giving employees the opportunity to express their views and act on them, companies can improve the work environment, increase commitment and productivity, and reduce turnover. Specific actions may include changes in company policies, additional training, improvements in the work environment, among others.
How can feedback help in performance evaluation?
Feedback is an integral part of the performance evaluation process. It provides insight into the current performance of the employee, areas where they shine, where they can improve, and how they can achieve their career goals. In addition, continuous and effective feedback can boost motivation, increase job satisfaction, and improve individual and team performance.
Examples of companies that reduced turnover through the use of feedback processes
Feedback processes at Google and Microsoft
Companies like Google and Microsoft have effectively used feedback to boost employee engagement and reduce turnover. For example, Google uses its "Googlegeist" program, an annual employee feedback survey, to identify areas for improvement and develop strategies to address them. Microsoft, on the other hand, replaced their annual performance reviews with continuous feedback, providing more regular and open dialogue between managers and employees.
Feedback processes at Adobe and Zappos.
Adobe: Adobe used employee feedback to improve its onboarding process. The result was a 25% increase in employee retention.
Zappos: Zappos is known for its strong feedback culture. Employees are encouraged to give and receive feedback regularly. This fact has helped create a highly engaged and productive workforce.
Feedback Culture
What is a Feedback Culture?
A corporate feedback culture is a culture of openness, learning and continuous improvement, where feedback is valued and used to promote individual and organizational success.
Creating a feedback culture is essential for the long-term success of any organization. In this type of culture, feedback is considered a learning tool, not a criticism. It is valued and welcomed, whether positive or negative, and is used regularly to improve individual and organizational effectiveness. Disseminate this in your company through training, effective communication and setting the right expectations.
What's the best way to promote good feedback?
To promote good feedback, the best way is to start by creating a safe and trustful environment. Encourage honesty, openness and respect, and make sure everyone in the organization understands the value and importance of feedback. Lead by example by providing regular and constructive feedback, and recognize and reward those who do. This will strengthen the feedback culture and encourage its continued practice.
Does anonymous feedback work?
Anonymous feedback can be a useful tool, especially for sensitive issues where people might hesitate to express their opinions openly. However, it also has its downsides. It can lead to abuses, be less accurate due to lack of accountability, and create an environment where people fear giving open feedback. Therefore, although it may have a place in feedback collection, it's important to carefully consider how and when it is used.
Main Feedback Models
What is the SCI Feedback?
The SCI (Situation, Behavior, Impact) feedback model is an effective and widely used feedback tool. It is a simple but powerful structure that allows for clear and objective communication to help improve performance and behavior in the workplace. Let's delve a bit deeper into each component of the model.
Situation: This is the first step of SCI feedback. Here, you describe the specific situation in which the behavior occurred. It is crucial to be as precise as possible so that the person receiving the feedback can clearly understand the context. For example, instead of saying "in the meeting", you could say "in last Tuesday's planning meeting".
Behavior: Next, you address the specific behavior you want to discuss. Again, it is important to be clear and specific, focusing on observable actions and avoiding judgments or assumptions. For example, instead of saying "you were disrespectful", you could say "you interrupted while others were speaking".
Impact: Finally, you describe the impact of the behavior. This can be the effect on you, others, the team, or the project as a whole. Talking about the impact helps the person understand the consequences of their behavior and why it is important to make a change. For example, you could say "This made others feel undervalued and disrupted the flow of the discussion".
Using the SCI Feedback model can make the experience of giving and receiving feedback less personal and more productive, focusing on specific behaviors and their impacts. This helps to create a more open and supportive work environment, where everyone is committed to continuous improvement.
What is 360º Feedback?
360º feedback is a technique where an individual receives feedback from various sources – including superiors, colleagues, subordinates and even customers. This approach provides a more complete and balanced view of an individual's performance, which is much more valuable than the perspective of a single person.
What is the Sandwich Feedback?
Sandwich feedback is a technique that involves starting and ending feedback with positive comments, with constructive criticism in the middle. However, it is important to use it with caution. If not done well, it can be seen as dishonest or confusing. In addition, some people may only hear the positive comments and ignore the criticism.
What is the Feedback Canvas?
The Feedback Canvas is a visual tool that helps to give comprehensive and balanced feedback. It encourages the person to consider all aspects of an individual's performance, including strengths, areas for improvement, external influences, and personal aspirations.
The Feedback Canvas is divided into several sections, each representing a different aspect of feedback:
What was done well: This section highlights the areas where the individual or team excelled. It is an opportunity to recognize strengths and successes.
What could be improved: This section identifies areas that need improvement. It is a chance to provide constructive criticism and suggest ways to improve.
Ideas and suggestions: This section is for sharing ideas and suggestions for the future. It is an opportunity to think creatively and innovatively.
Actions to be taken: This section describes the specific actions that will be taken based on the feedback. It is an action plan that helps to turn feedback into real improvements.
What is Kudos Feedback?
Kudos feedback is an effective way to recognize and appreciate the efforts and achievements of employees. It encourages positive recognition and creates a culture of appreciation in the workplace. The term "Kudos" is derived from ancient Greek and is used to express praise or recognition for a job well done.
"Kudos Feedback" can be given in various ways, such as a personal thank you, a compliment in front of the team, or through a formal recognition system.
What is the Feedback Wall?
A Feedback Wall is a physical or virtual space where people can post feedback anonymously. This can encourage participation from people who may hesitate to give feedback face to face. However, it is important to monitor the feedback to ensure that it is constructive and respectful.
The Biggest Trends in Feedback
Feedback Feedforward
What is feedback feedforward?
Feedback Feedforward is a methodology and a communication strategy that focuses on the future, rather than the past. While traditional feedback focuses on what has already happened, feedforward focuses on what can be improved in the future.
Feedforward is gaining ground in the corporate world as a more productive method of improving employee performance. Instead of looking back and criticizing what has already happened, this proactive approach focuses on providing suggestions for future improvements. With a more positive and forward-looking tone, feedforward can be less defensive and more accepted by employees, encouraging them to adopt new behaviors and strategies to achieve their goals.
One-on-one Feedback (1:1)
What is One-on-one feedback (1:1)?
One-on-one feedback (1:1) is a type of communication in the workplace that occurs directly between two individuals, usually a manager and a team member. These meetings are designed to provide an opportunity to give and receive feedback, discuss goals and objectives, resolve problems and deepen the working relationship.
One-on-one feedback meetings are becoming increasingly popular as a way to provide personalized and in-depth feedback. These private meetings between a manager and a team member offer an opportunity to discuss in detail the employee's performance, set clear goals, and address any problems or concerns in an open and honest manner. They create a safe space for meaningful dialogue, strengthening the working relationship and allowing for more effective personal and professional development.
Continuous Feedback
What is continuous feedback?
Continuous feedback is a method of communication in the workplace where feedback is given regularly, rather than at fixed intervals like in annual performance reviews.
The practice of continuous feedback is another trend that is transforming the way companies manage employee performance. Instead of relying on annual performance reviews, many organizations encourage a constant flow of feedback between managers and employees. This allows problems to be identified and solved quickly, achievements to be recognized in real time, and employees to receive continuous support for their development.
Technology and Feedback
Do I need software to manage my feedback processes?
Yes, it is important to use a digital tool to manage feedback processes in an organization. Technology plays a crucial role in facilitating the collection, management, and analysis of feedback.
Continuous feedback software allows easy and efficient feedback collection, automatic notifications to remind employees to provide feedback, and data analysis tools to help identify trends and patterns.
This not only saves time and effort, but also helps to ensure that feedback is managed in a fair and transparent manner.
What is the best employee feedback software?
There are many feedback software available, and the best choice will depend on the specific needs of your organization. Some of the most popular ones include Slack, Microsoft Teams, and SurveyMonkey, each offering a range of features that can be customized to suit different work environments.
Why choose GFoundry to manage a comprehensive feedback program in your company?
GFoundry is a solution that holistically impacts the entire Talent Management cycle. With the Feedback Module, it is possible not only to manage peer feedback processes, informally and in various scopes and models, but also to manage feedback processes between employees and leaders, in both directions.
To create a true feedback culture, it is possible to have the module constantly available, so that any employee can share or request their feedback whenever they want.
These feedbacks can also be given in different scopes, depending on the reality of each organization. The feedback can be within the scope of a project, it can be situational or even more formal feedback. Through a form, the employee shares the feedback with the colleague, which can later be made available to their manager.
Other feedback scopes that you can implement with GFoundry:
In the end, it is possible to access dashboards that aggregate all information coming from feedbacks, being an essential tool to visualize information simply.
Managers also have access to dashboards with summaries of feedbacks from their team members. It becomes important for managers to have an overall perception of what are the strengths and points to improve in their team, in order to work to overcome necessary challenges.
Ready to get started?
Take the next step and learn more about how GFoundry can help you.