Data Integration with GFoundry: Platforms and Benefits
Nowadays, all organisations need to have an holistic view of the systems that support their activity. Naturally, for the effective management of all the processes that ensure the daily tasks, companies have a wide range of information systems for different purposes.
When it comes to talent management, the trend is no different. The management of people has led to other needs arising, such as the management of their training, the management of their schedules, their tasks, and even more administrative issues, such as salary management.
In organisations with larger structures, the challenges are also greater. Given their complex structure, and even due to the very different needs, it becomes almost impossible not to have several platforms, each one addressing a certain challenge.
This means that, at some point, it becomes a challenge for any employee to have to work with different platforms in order to fulfill everything required in their role. These challenges have led organisations to seek solutions that not only allow them to meet various challenges in a single platform, but also to integrate with other existing platforms.
These details improve the employee experience, as well as making more agile several of the manual data and information transfer processes.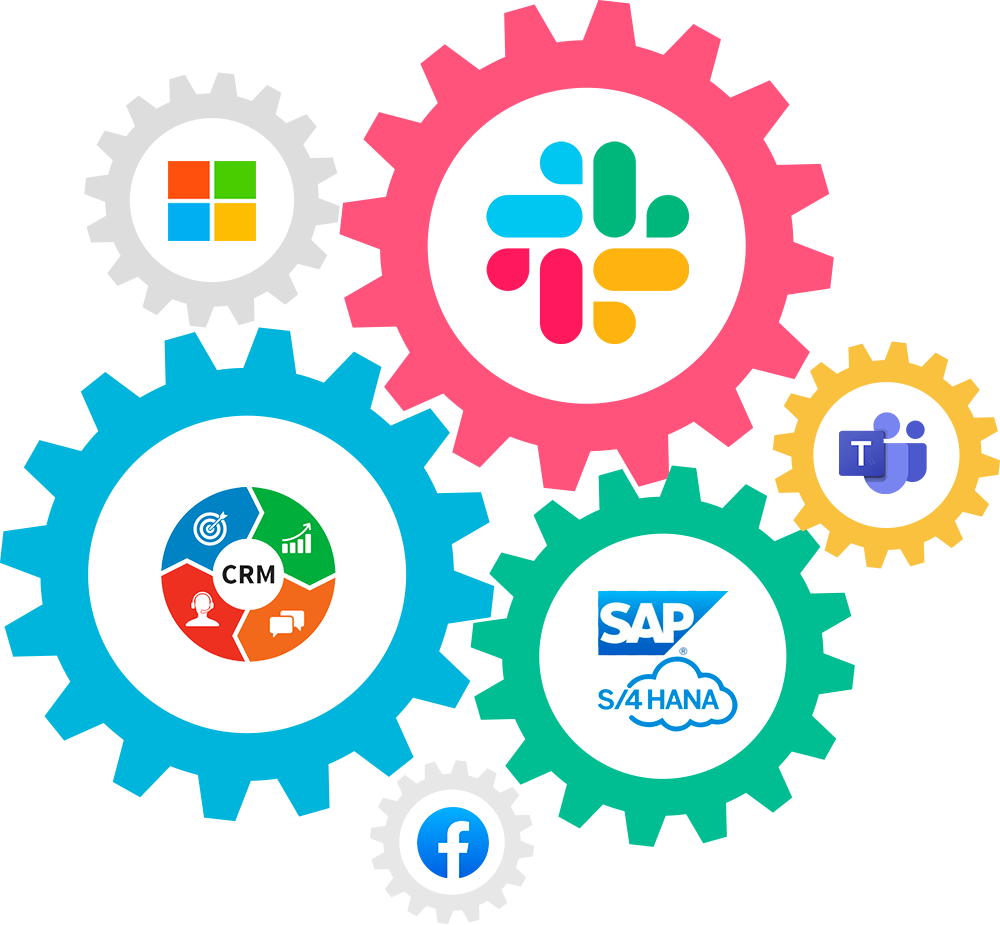 How does GFoundry integrate into a universe of diverse platforms?
At GFoundry we have an holistic view of talent management from A to Z. That is why we have developed a solution that allows us to embrace the many challenges linked to talent management in an organisation, allowing us to increase the engagement of the community as a whole.
Through a multi-module approach, we guarantee an effective response to various challenges, such as Attraction and Recruitment, Onboarding, Learning, among many other examples.
However, and despite GFoundry being able to centralise all these processes and information in an organisation, there are situations in which it will be necessary to have integrations that not only facilitate the transition of information, but also automate the flow of information within the structure.
Therefore, in GFoundry we have integrations with various softwares and platforms that allow us to make the integration process of our solution more agile and efficient.
More detail about SSO & Learn Content integrations:
1. Single Sign-On integrations (SSO) allow users to use their corporate email to access the platform. Not only is it possible to have SSO with Google Suite and Microsoft, but also through LinkedIn.
2. Another type of integrations are external content integrations, which may work in 3 different levels of depth:
A first level of integration through links to other external platforms. On GFoundry, you may include links that direct users to other platforms or websites;
A second level of integration that allows you to have embed learn content, i.e. content embedded in the GFoundry platform. This content can be from Sharepoint, Youtube, Vimeo, or SlideShare;
A third level of integration that represents the integration of data by API. This type of integration allows information to circulate from one platform to another, either at the level of training content that the user is consuming, or at the level of data that is used for our Machine Gaming module.
In the end, with all these integrations, GFoundry can be the experience layer that allows the employee to have a more dynamic and centralized day-to-day, preventing them from losing focus on all the platforms that already exist in the organisation. Furthermore, using the power of gamification, it is possible to increase employee engagement and their connection with the organisation.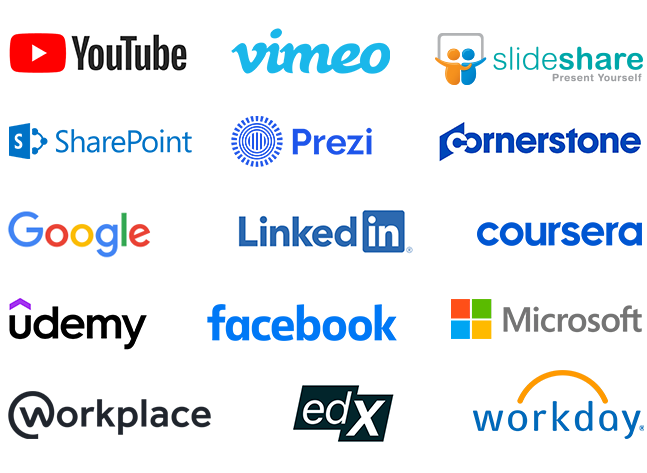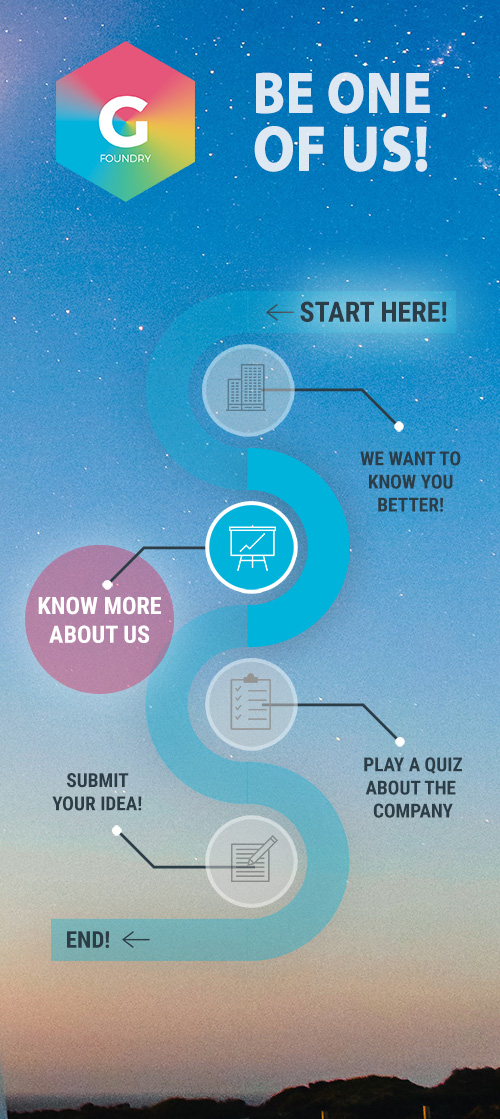 Practical example using the different types of integration
With the GFoundry platform you can design paths using Missions. Use your own characters and images that illustrate the stages, needs, goals, thoughts, feelings, opinions and expectations of your employees! Each stage of a Mission can be configured using any module of the GFoundry platform.
Using the example of an Onboarding Mission in GFoundry, we can illustrate the various stages that the user may go through.
In a first stage, and still without being logged in to the platform, the user may access using their Microsoft365 account (which they already use in the company), as well as their password. No additional registration is required!
As soon as they enter the platform, the user accesses their Onboarding mission, which will guide them during their first day in the organisation. In the first stage, they are asked to visit the platform on which the employee can schedule their holidays. Through the link, the employee accesses the platform, schedules their holidays, and when they returns to GFoundry, they receive a medal for having accomplished that task!
In the next step, the employee is asked to watch a video in which the CEO of the organisation presents the Vision, Mission and Values. Since it is a YouTube video, the employee watches the video embedded in GFoundry! Only when they finish the video, they receive a medal thanking them for having fulfilled one more stage of their Mission.
In the third stage of this first day, besides having a set of training courses available on the GFoundry platform, through the Learn Module, the employee will have to comply with a certain list of training courses available on Coursera. The employee accesses their profile, and when they complete their training and return to GFoundry, they receives their training certificate, automatically issued with the data from their course!
In the final step, the employee is asked to visit the Competitions Module. The employee notices that there is a ranking of the people who sell the company's products the most! After having finished this onboarding process, the employee has a very clear objective: to reach the top of this month's ranking!
Does the GFoundry platform allow other more complex integrations with other apps?
Yes! You can make workflow automations using your favorite tech tools, from CRM's to communication apps, to increase engagement and productivity throughout the year.
Messaging and Communication apps
Integrations with messaging and communication apps like Slack and Microsoft Teams, allows your employees to collaborate more effectively and make faster, more informed decisions. It also helps to reduce the risk of errors and inconsistencies, which can lead to costly mistakes.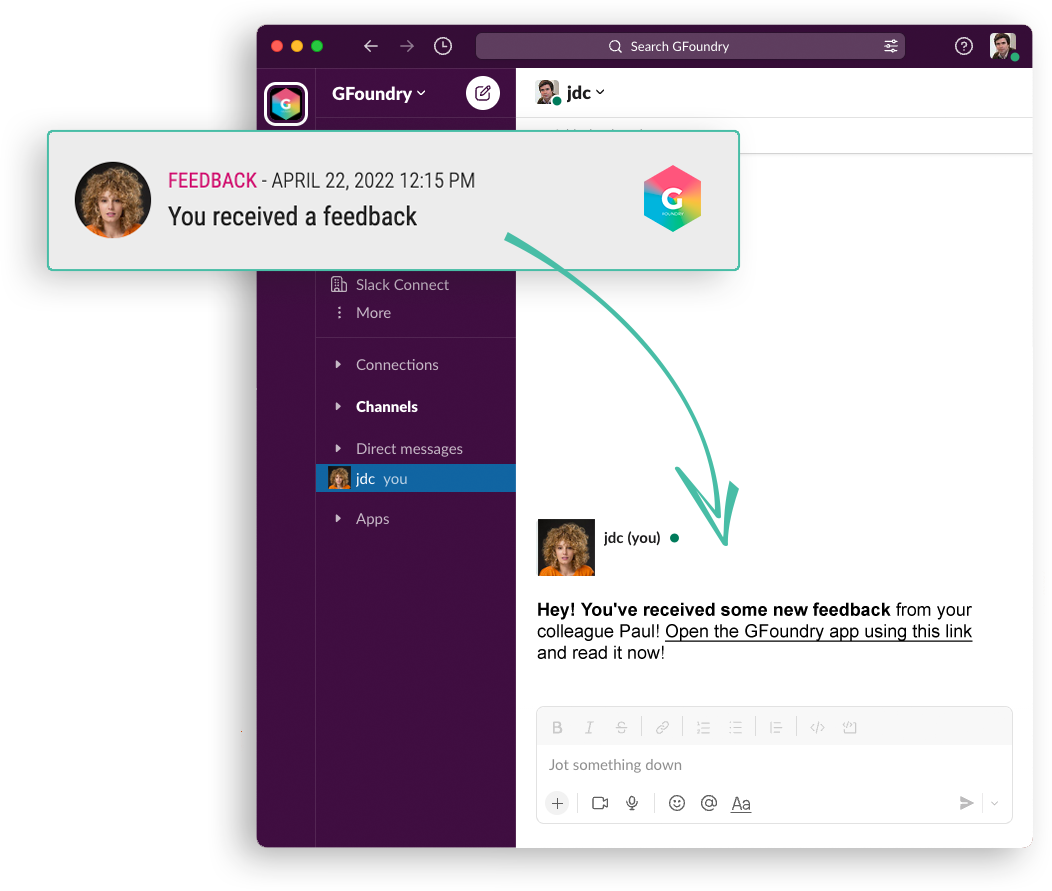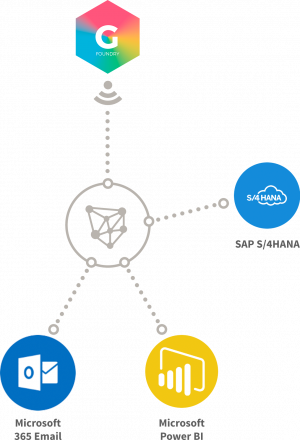 Empower your data-driven decision making
With GFoundry platform, you can integrate your favourite ERP, like SAP, and centralize your data. It will be much easier to monitor performance and achieve your objectives – without the need for spreadsheet expertise.
Business Intelligence Platforms
Integrations with Business Intelligence platforms like Microsoft Power BI, can give you the ability to collect data from various sources and combine it into a single, unified view. This allows organizations to identify relationships and trends that may not be visible when looking at the data in isolation.
Multiple workflows!
You can create how many connections and workflows, according to your needs!
Example: when an employee finalize a specific evaluation cycle, the system can send a specific data from a GFoundry evaluation report to a Microsoft Power BI dataset.
Then, the workflow can be configured to refresh Microsoft Power BI datasets automatically and send a message on Slack to the manager alerting that a specific dashboard it is updated.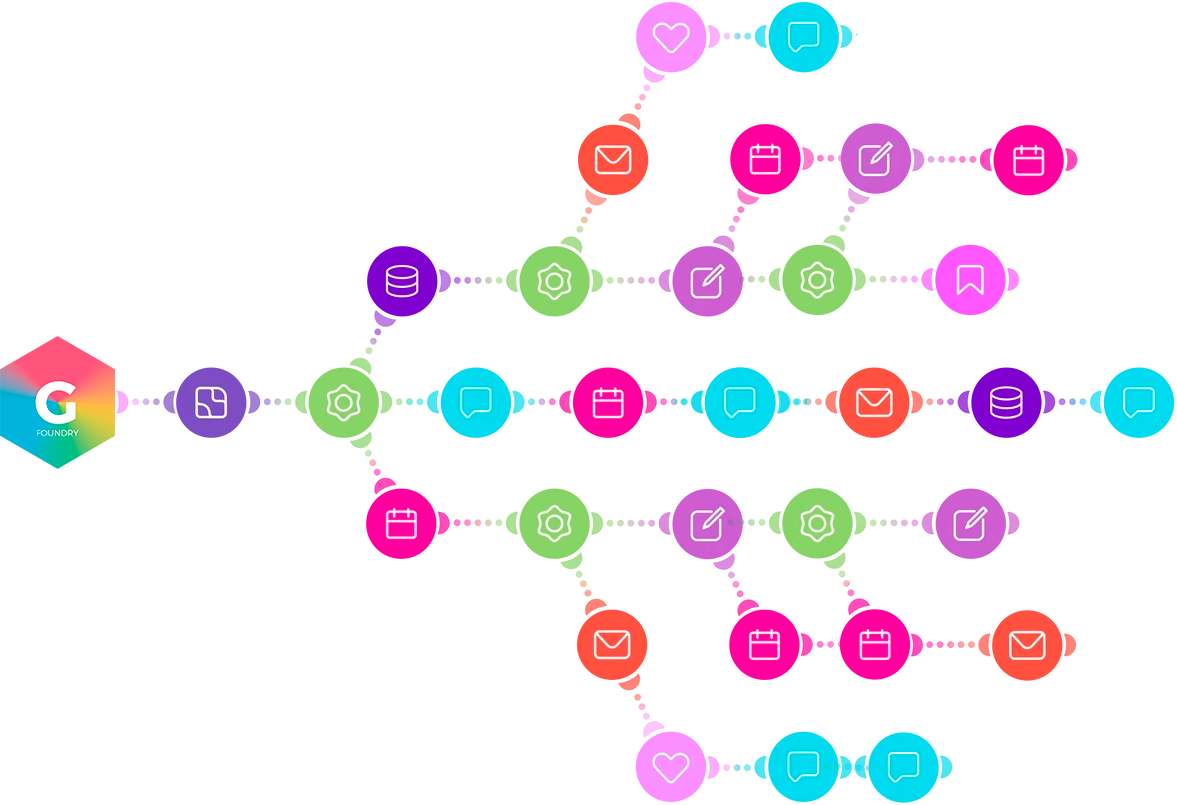 Benefits of using the GFoundry Gamification Engine using the interconnection of multiple applications
With GFoundry, you can benefit from the interconnection of multiple different apps together with our gamification engine, by allowing users to access and interact with the platform through a variety of different apps, rather than just one.
You can generate rewards from actions taken within the GFoundry platform and share them on other Apps OR compensate your employees for achieving goals on other external software!