The need for approval and recognition is part of human nature and is present in the various dimensions of life, with great relevance in professional activity where we are naturally more exposed nowadays.
If it is legitimate to expect that someone notices, that someone speaks (well) of the subject, the action, the project or the result, as social beings that we are, we feel and it affects us positively if we are valued for the achievements made, if we are recognised for the performances and achievements, and if our talents are recommended.
According to the *aberdeen group, "best-in-class companies are 22% more interested in considering recognition programs to be extremely valuable to their success and it's easy to see why from the following chart with the ROI of the benefits of adopting peer social recognition programs:"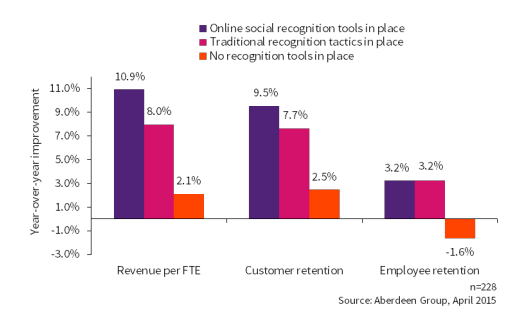 At GFoundry we recognise the importance of these programmes and offer dynamic solutions through a specific module – Recognition – from which the company identifies people (and competencies) and promotes a culture of internal recognition (before the market does so and the best talents leave).
We answer questions such as:
Who do I want to publicly recognise?

What attitudes and behaviours should I recommend?

What feedback do I receive?

What is my company's competence map?
With this module you can create an internal recognition programme in which each employee can recognise and be recognised in the following areas:
Acknowledgement and peer feedback with stars and comments;

Behavioural competencies (the so-called soft skills)

Technical skills (so-called hard skills).
Have you ever imagined the advantage of making skill maps and using advanced statistics?
You can do all the knowledge management of your human capital through analytics, and make more informed decisions. You can also identify the right people for specific assignments with the available data.
Sharing know-how facilitates organic engagement and promotes collaboration for everyone in the business, and this is an important differentiating factor in companies and organisations.
To ensure the success of a recognition programme, we just need an enabling culture with the right tools 🙂
And because the GFoundry platform is multi-module, all the modules available in the solution can connect with each other. As an example, a recognition programme could easily be linked to an emotional skills training programme using the Learn Module.
The Association with the Market Module and the power of Gamification
Associating the Market Module with a recognition programme can reinforce the effectiveness of actions through the provision of benefits and some privileges. 
Virtual coins can be attributed to each user for certain actions or for the achievement of certain goals and objectives, leaving it literally in the hands of employees to exchange them for items available in the Marketplace module, which in this case means complements or prizes provided to employees, such as vouchers, extra days of holidays, leisure experiences, social responsibility actions such as donations or participation in charitable activities, among others that are already part of your organisation's portfolio.