It 's common sense that people improve their performance when they are committed with challenging goals – it's part of our nature, right?
But do employees know what their employers and managers expect from them?
According to Gallup, only half of the employees know what outcomes are expected from their work. 
They refer that "Meeting employee's achievement needs is important to encouraging high performance. When managers help employees set work priorities and performance goals, they give employees more freedom in meeting these objectives, enabling them to take initiative and work autonomously."
It's from this gap – organizations focus on their strategic priorities – that OKRs methodology aligns every stakeholder by unfolding objectives for the teams, having them simple and clear for everyone, with scanning metrics designated as "Key Results".
In practice, using OKRs is different from other goal-setting techniques because of the aim to set very ambitious goals. When used this way, OKRs can enable teams to focus on the big bets and accomplish more than the team thought was possible, even if they don't fully attain the stated goal. OKRs can help teams and individuals get outside of their comfort zones, prioritize work, and learn from both success and failure. re:Work in https://rework.withgoogle.com/
OKRs framework is implemented with a meaningful communication plan in which the teams acknowledge the strategy, as also:
Demystify what is objectives and explain their purpose;

Establish a comparison between the present organizational  framework and its results against the outcomes with OKRs;

Explain how it works from a practical perspective, from the cycle's definition, what is expected from each one, steps and deliverables, and how people are going to be recognized.
The link between people and this "culture" is directly related to where companies want to be and defining what the path to measure success.
OKR methodology supported with GFoundry platform
GFoundry, as an employee engagement solution, is the ideal tool to support OKRs implementation in the sense that responds to the main key attributes, as following:
✔ Simplicity: because its a mobile first solution it demands simple and direct descriptions;
✔ Transparency: allows defining objectives as public and share their progress with the stakeholders in real time;
✔ Agile and dynamic: super versatile in updates and sharing results, which can be auto declared, manually inserted or automatically, from a data source;
✔ Alignment: Sensibilization sessions accessed from content libraries, with different formats types and from the feed news with the main events and information;
✔ Feedback and Recognition: Follow up and regular support with access to reward plans and incentives from gamification techniques;
Some tips and best practices
Objectives should be written with action verbs, with clear terms, tangible and prioritized according to the needs of the business.
It's recommended between 3 to 5 objectives to stay focused, which links with 3 key results.
Key results are metrics that show work outcomes produced by an employee to progress on the team objective.
The results should be supported by clear evidence (Accounting, CRM´s, ERPs reports, etc) defined in the beginning, with a start point to a finishing one.
It's recommended to adopt the quarter for team cycles, with touchpoints in the middle of the term for feedback and coaching and to decide the eventual refresh or resolution of any objectives settled in the first place.
At the end of the quarter an evaluation takes place to prepare objectives for the next quarter on the way to meet the organization strategic goals at the end of the economic year.
Remember also that dashboards with some of the most relevant data are fundamental to follow the progress of some indicators: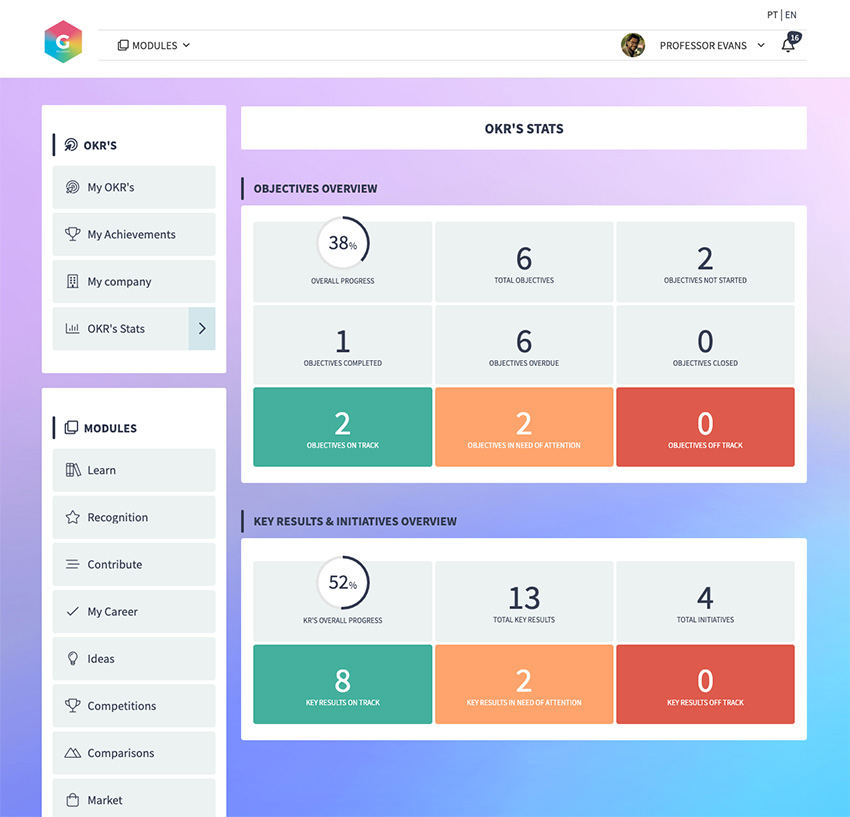 What are OKRs?
They are defined as inspiring and ambitious objectives in such a way that they excite people to change and leave their comfort zone; 

They are measurable because of their link to key results, easy to measure outcomes accomplishments;

Everybody should acknowledge them. They are communicated to all the organization;

There's a classification in which 60% to 70% is an acceptable milestone (when higher than this could be that the objective is too easy or poor in ambition).
What OKRs are NOT:
Individual appraisal objectives;

Tasks checklists (else what teams want to accomplish);

Ambiguities or utopies, because the outcomes are like math in the way they allow a great progress on the long term – they are realistic and achievable.
The OKR's Module is a tool for Goals definition and management that allows the implementation of OKR methodology and can be used by teams and individuals for setting ambitious goals enabling measurable results.
Main features of this module:
OKRs and Initiatives
Roadmap visualization
Due dates
Check-ins Reminders
Statistics with filters
KR's progress Dashboards
KR's Activity Stream

Settling objectives and personal challenges;

Settling objectives and professional challenges (smart goals);

Investment system with virtual coins where one can invest in objectives from others;

Objectives mass creation and management system;

Objectives status follow up on a simple and efficient way (start>progress>results);

Full integration with other modules for different purposes (Eg: Recognition, Feedback, Reward Market, Innovation, Performance Appraisal)