Promoting Work-Life Balance Tips
Work-life balance is a challenge for everyone. Even though each job is different in terms of its hourly demands, the truth is that a large part of the day is filled with professional life. However, the topic has been increasingly discussed within organisations due to increased concern about workers' mental health. The lack of this balance can lead to problems such as lack of productivity, demotivation, and even the departure of an employee from the organisation, leading to an unwanted increase in turnover. In a pandemic context, with remote work being an option much more used by most people, the line that separates the professional and personal life is no longer the distance between home and office, having converged to the same physical space. With this, it has become even more important to ensure a psychological balance between work and leisure. Therefore, we have gathered 7 tips to work on this topic in your organisation, in order to promote a more sustainable balance for your employees: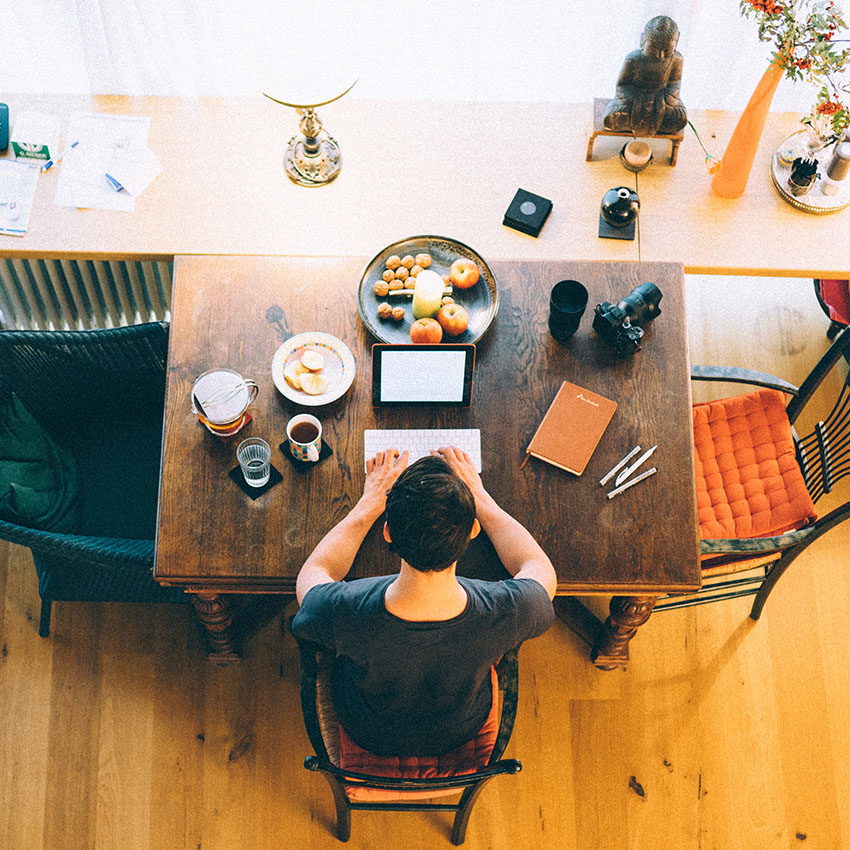 1. Make a Diagnosis
Before working on a subject like mental health, it is necessary to make a diagnosis of your company's current situation. In this diagnosis, it is important to understand how people deal with the separation between their professional and personal life. Some key questions could be about their daily habits, other activities in their life and wellbeing habits. This diagnosis makes it possible to identify the main problems and implement solutions adapted to the real needs of your employees. Furthermore, different teams are made up of different people, with different working methods, who may have different problems for which adapted solutions are needed. With GFoundry, through Contributions, you can share well-being forms that can be filled in by all employees in your organisation. This way you have access to key information about how your people feel, what problems they experience, and what needs they have in their context.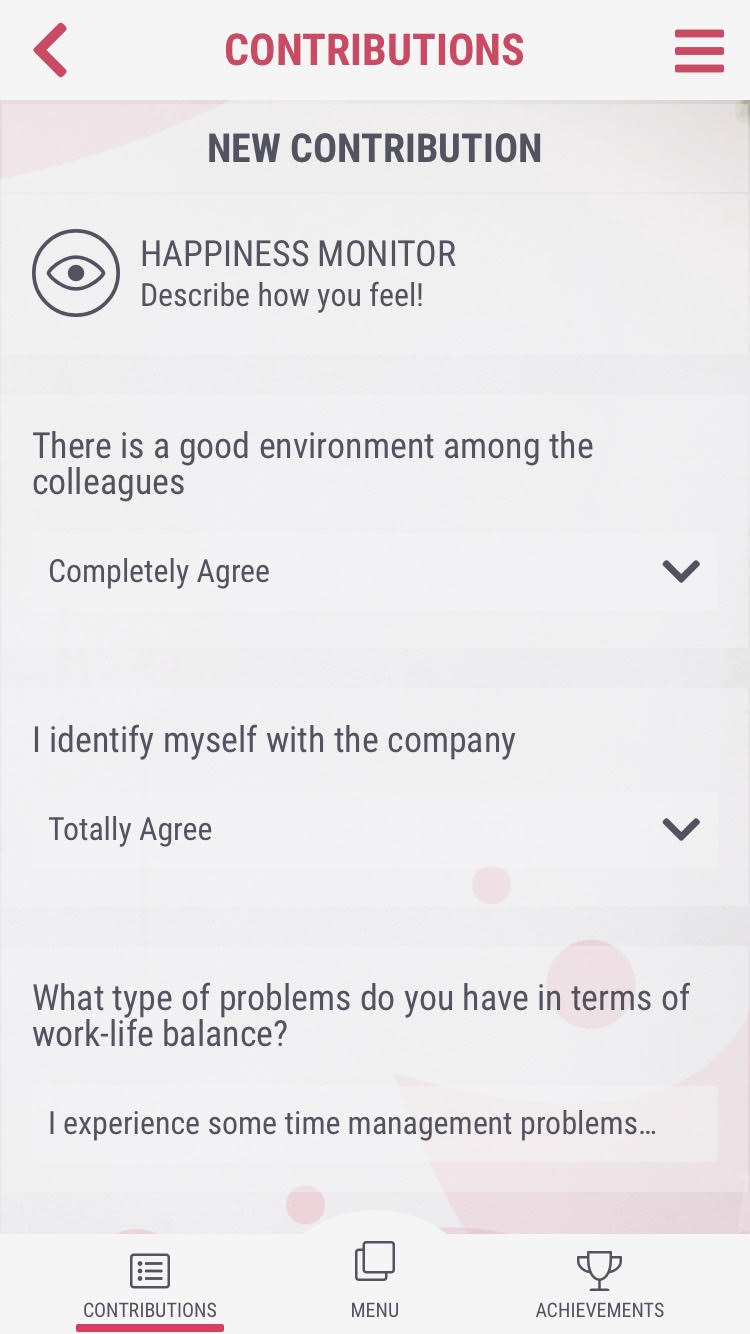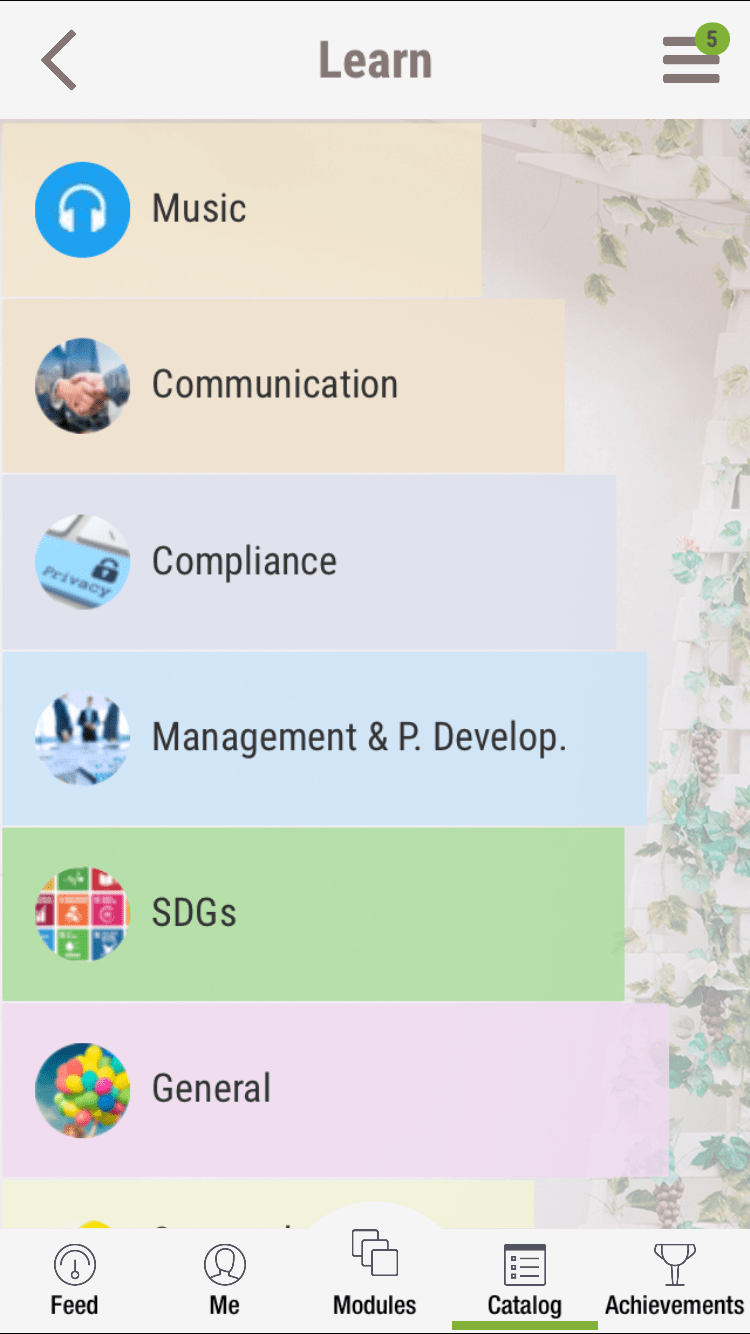 2. Promote education on the topic
Once the issues have been identified, it is crucial to disseminate information on the topic of work-life balance. Some options are organising webinars on work-life balance or sharing newsletters on wellbeing. The aim is to ensure the sharing of tools that employees can use to identify their needs and subsequently take action so that they can improve their wellbeing. At GFoundry, through the Learn Module, besides being able to integrate all your employees' training content, you can also insert new categories with wellbeing content to which users can have access whenever they need it.
3. Implement well-being activities
Besides promoting knowledge on the subject, it is also crucial to demonstrate its practical side. Promoting physical and/or psychological wellbeing activities allows your employees to pay more attention to their own wellbeing, having healthier lifestyles. Some examples could be joint physical exercise classes (in person and/or online), healthy cooking classes, yoga sessions, among other possibilities – possibilities that may come from suggestions left by your own employees in the diagnosis phase. On the GFoundry homepage there is a News Feed where you can communicate all the scheduled activities, allowing your employees to always be aware of the wellbeing agenda within your organisation.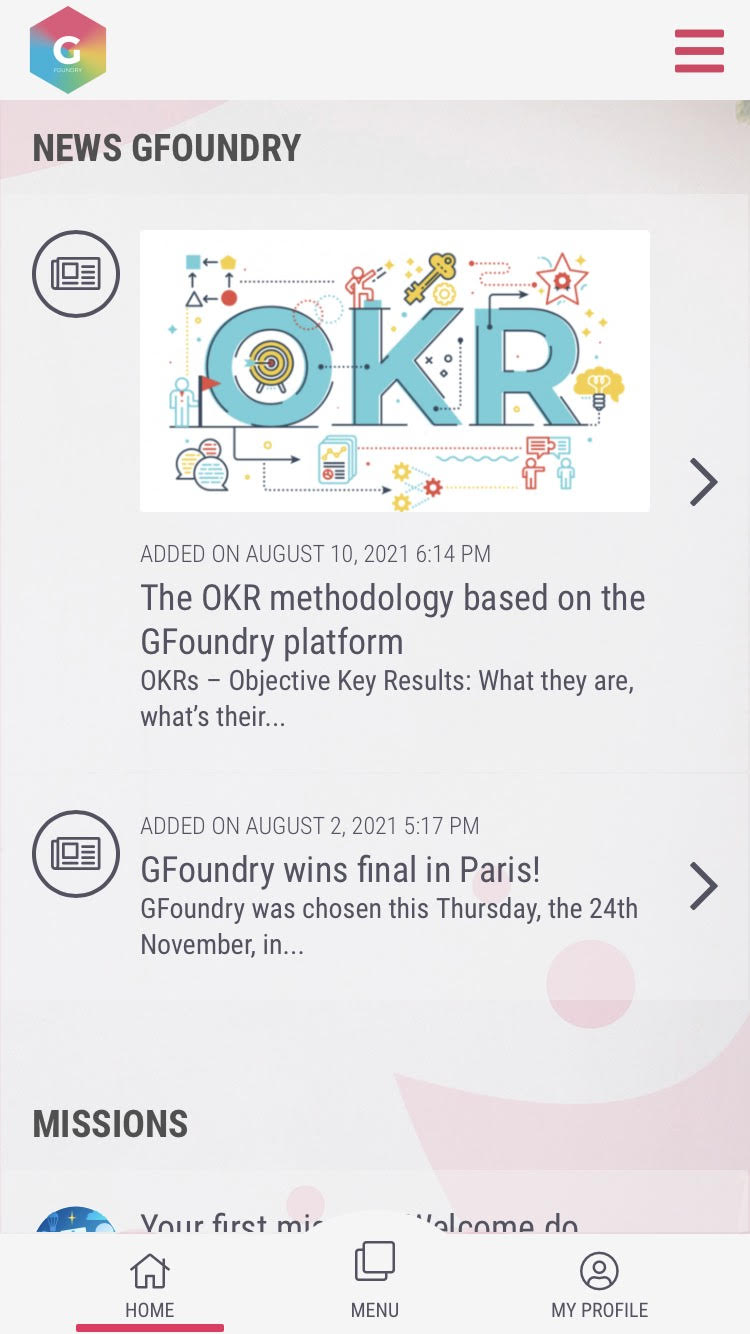 4. Use flexible working to your advantage
Giving your employees the possibility to have more flexible working hours is an important tool for the well-being of your employees. There are several possibilities regarding flexible working policies in organisations. Whether it is through flexible starting and ending times, the possibility to choose working hours freely or even not having defined working hours but rather objectives to be accomplished, allows your employees to reconcile their professional life with their personal issues in a simpler way. Employees can fulfil their tasks and still be present at important family moments, do physical activity at a time that is more beneficial to them, or enjoy leisure moments that are necessary for their well-being. With GFoundry's Goals Module, it is extremely simple to manage your team's objectives through the OKR – Objective Key Results – methodology. Having all your objectives on your mobile phone, and even having access to their completion status, it is much easier for your employees to manage and achieve their goals.
5. Use remote work to your advantage
Together with the flexibilization of work, the possibility of being in telework allows the employee to better manage his personal life conciliated with his professional life. Whether it is because their children are sick, or because a doctor's appointment has been scheduled for mid-morning, the possibility of being on remote work allows the employee to meet their personal schedule while still being productive for their organisation, and not disrupting the normal flow of work. In addition, some studies show that employees can increase productivity rates by 13% when working from home. GFoundry, being a multi-platform solution, allows employees to access its contents anywhere – either through their computer or through their mobile phones.
6. Promote discussions on the subject
Even more important than promoting a culture of wellbeing and balance, is to implement a culture of open discussion about the issue. Ensuring that people can discuss the issue openly with their colleagues and superiors allows employees to feel comfortable discussing any need they feel, preventing the issue from escalating. Through GFoundry's Engagement Thermometer, it is possible to constantly and periodically analyse metrics such as work-life balance, alignment, feedback, satisfaction and well-being, among other essential metrics to understand how your teams feel.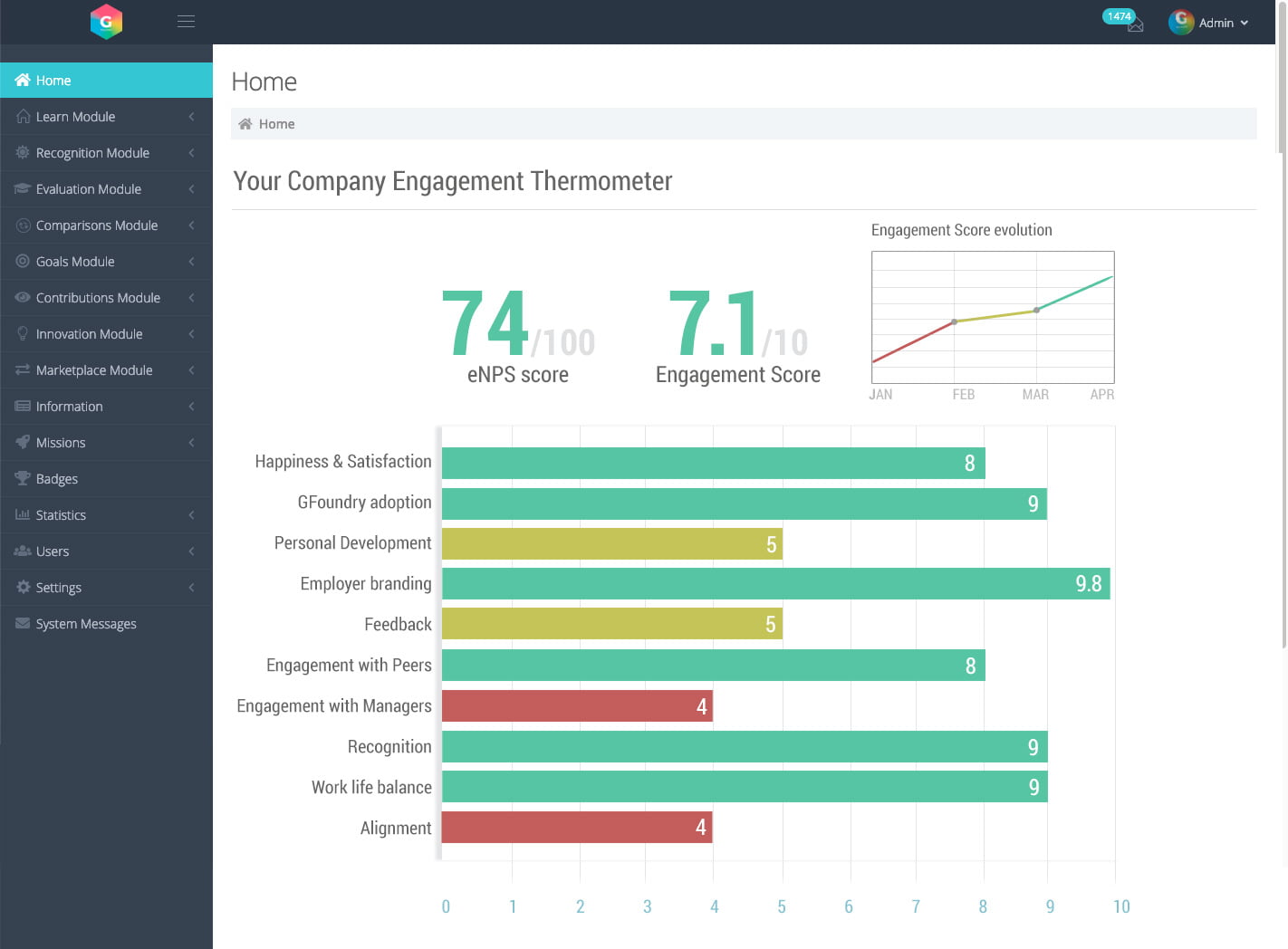 7. Lead by example!
Finally, it is important to demonstrate to employees that this balance can and should be promoted by anyone within the organisation. It is not only important that teams use all the tools at their disposal, but that their leaders can also encourage their peers to promote a culture of wellbeing and balance. At the end of the day, employees feel more motivated and productive, ensuring better results for the organisation as a whole. Would you like to promote a better balance between the professional and personal life of your employees with the help of GFoundry? Learn more about our solution and book a demo with us! Read more: How to promote a good work-life balance for employees post-COVID-19
Keep on reading
Ready to get started?
Take the next step and learn more about how GFoundry can help you.