Why GFoundry Modules?
At GFoundry, we are conscious an enterprise or organization has a specific set of needs. With that in mind, we have created a set of modules that offer a diversity of tools to fulfill those requirements of different departments & challenges, across your enterprise.
Each GFoundry module supports one or more challenges in an organization.
Each module can be connected independently but all of them communicate with one another in an integrated way to integrate a common strategy.
All modules have API connections, and can incorporate external data and send data to other software.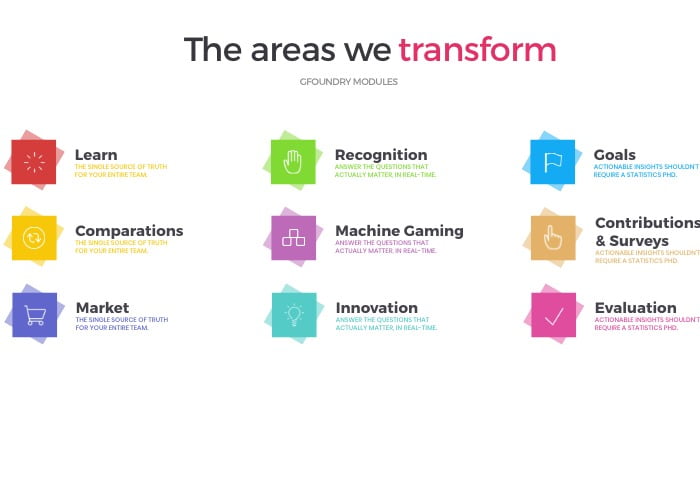 Different modules for different purposes

Learn
YOUR LEARNING HUB. THE POWER OF MICRO-LEARNING

Recognition
TO FOSTER THE PUBLIC RECOGNITION AND TO IDENTIFY CHARACTERISTICS AND SKILLS
ENCOURAGE THE DEFINITION AND FOLLOW-UP OF PERSONAL AND PROFESSIONAL GOALS
Goals Comparisons
INVOLVE ALL THE ECOSYSTEM OF EMPLOYEES AND COMPARE ITEMS, PRODUCTS AND PEOPLE Machine Gaming
GAMIFY YOUR WORLD! INTEGRATE WITH EXISTING SOFTWARE VIA API
PROMOTE CONTINUOUS FEEDBACK
Contributions & Surveys Market
YOUR MARKET PLACE FOR VIRTUAL COIN EXCHANGE Innovation
PROMOTE CALL TO IDEAS PARTICIPATION AND SHARING
PROMOTE A COMPLETE, CONTINUOUS AND PARTICIPATORY EVALUATION PROCESS
Evaluation
OPTIMIZES YOUR PROCESSES AND ENABLES COST SAVINGS ALL THROUGH THE EFFORTS OF YOUR TEAMS
!mpact